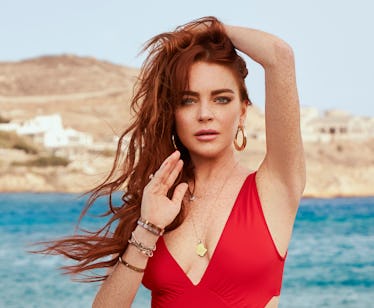 'Lindsay Lohan's Beach Club' Is Coming To MTV Sooner Than You Think
MTV
A role in this year's holiday hit Life-Size 2 wasn't in the cards for former child star Lindsay Lohan, but now we finally have proof of why she couldn't hang out with her Eve doll again. MTV has just released its first teaser for Lohan's reality show about her luxury Greek resort, and the series is coming way sooner than we expected. When does Lindsay's Beach Club premiere? It will debut just as our Christmas buzz is finally wearing off.
MTV announced on Dec. 3 that the new docuseries will premiere in the United States on Tuesday, Jan. 8, at 8 p.m. ET. Lindsay Lohan's Beach Club will then hit MTV's international branches. After citing scheduling conflicts related to the show's filming as the reason why she couldn't appear in Life-Size 2, Lohan's return to the screen is clearly happening under her own terms. According to a network press release about the series, cameras will follow Lohan as "she expands her business empire in Mykonos, Greece, with the launch of her new club Lohan Beach House." The statement continues:
Viewers will get to see a new side of Lohan as she calls the shots with her handpicked team of young and ambitious VIP hosts who will have to do whatever it takes to secure Lohan's name as the definition of vacation luxury. But when the lines between romance, friendship, and work get blurred, the staff will quickly learn they'll have to prove themselves to their toughest boss yet.
The video teaser features Lohan touching upon her motives for opening her own beach club. "People have always given me trouble for going to clubs," she says in the promo. "So, why don't I just open my own?"
Including brief shots presumably of Lohan's employees, the clip also shows a confident Lohan gliding through her resort as if she's in a Mamma Mia! dream sequence. Smiling at the camera, she asks, "Missed me?" before delivering a wink that definitely made Disney nostalgic about the talent they once called theirs. She may not be a quarterback on the football team or a twin at summer camp anymore, but Lohan seems poised and ready to step back into the spotlight in a unique way.
Fans can also catch a sneak peek of the series a week ahead of time. On Jan. 1, MTV will air the special Lindsay Lohan: Welcome to the Beach Club at 8 p.m. ET, introducing the rest of the cast. If you want a reminder of how Lohan has seemingly managed to rebuild her career after facing drastic obstacles, the network will also revisit some of the star's most memorable moments. The tentatively titled Growing Up Lohan will air on Jan. 7 at 10 p.m. ET. Seeing as Lohan's siblings Aliana and Dakota will host the special, it looks like it comes with the family stamp of approval.
Ultimately, Lohan is the boss babe in charge of things on the upcoming series, so here's hoping that this new challenge goes well for her. Lindsay Lohan's Beach Club premieres on Tuesday, Jan. 8, at 8 p.m. ET on MTV.