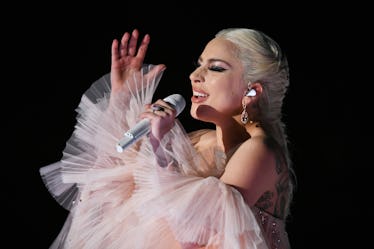 Lady Gaga Might Be Dropping Hundreds Of New Products, So Get Ready To Ra-Ra Ooh-La-La
Kevin Winter/Getty Images Entertainment/Getty Images
Another day, another moment for my bank account to cry tears (of joy). Little monsters get ready, because Lady Gaga is joining the ranks of celebrities launching a beauty line and it's going to be fierce. When does Lady Gaga's makeup line drop? Don't worry, because you have some time to save your coins, but you better get ready to stan for your Queen.
Back in the day, sleuthing and the beauty industry didn't coincide with one another. But in 2018, makeup-obsessed fans are releasing top secret makeup information faster than a public relations team. Over the past couple of months, celebrity beauty launches have been revealed in hordes (from Vanessa Hudgens to Kourtney Kardashian.) The latest contestant in the beauty gauntlet is Queen Lady Gaga. I can imagine her fandom screaming with excitement, and with good reason.
Celebrity news site The Blast was the first to drop that Lady Gaga has a beauty line in the works. I'm not sure what prompted it to watch Gaga's trademarking habits like a hawk, but I'm so glad it did. According to the site, Lady Gaga's company, Ate My Heart Inc., is in the process of trademarking a new brand of cosmetics called Haus Beauty. To verify this exciting intel, I decided to head over to the United States Patent and Trademark Office's website to get my little Nancy Drew on. Sure enough, Gaga's company applied for a standard character mark on Feb. 22 of this year.
As stated on the application, Haus Beauty intends to create a huge variety of products, including foundation, blush, lipstick, lip gloss, eyeliner, eyeshadow, perfume, facial cleansers, toner, scrubs, moisturizer, hand cream, masks, highlighter, bronzer, body oil, face wipes, sunscreen, self-tanner, nail polish, and so much more. Try to read that out loud five times. The application even lists something called "beauty milks" and "fragranced boy care preparations." As she does with most things, Lady Gaga is about to do the most.
Some people on the interwebs think that Haus Beauty's reference of "fragranced boy care preparations" might be a typo, but I think the interesting name is, in fact, going to be a product. Once upon a time, I wanted to be a lawyer. There's no doubt in my mind that Gaga has a trademark lawyer or even a team of trademark and contract lawyers. That means that everything was triple checked and every possible beauty product was thought of. I'm not sure what "fragranced boy care preparations" means myself, but they sounds like super luxurious scented products for men, or maybe just unisex products with the name "Boy."
Internet detectives are also denoting that Gaga's more makeup focused photos have included hashtags like #haus, #hausofgaga, and #hauseditorials. It's important to note that Gaga does have an overarching creative company called Haus of Gaga. Lady Gaga's creative team is responsible for her clothing, props, stage sets, and makeup for live performances, and other visual representations of her work.
What does that mean? It's not necessarily out of the ordinary that she would use those hashtags. On the other hand, Gaga's makeup artist habitually posts photo of Mother Monster without tagging the products she uses to create looks. So maybe, just maybe, she's beta-testing the future Haus Beauty line.
I'm known to get excited easily, but I'm telling you now that y'all need to start saving. If you're a Gaga fan, then you know she's not afraid to step outside of her comfort zone (she makes it seem like there isn't even a comfort zone to begin with!). Over the trajectory of her career, Gaga has broken the boundaries between beauty, fashion, and art, so this celebrity makeup line isn't really "just another line."
I predict fans are going to see tons of colorful, gender-fluid, glittery products fit for the stage. For now, there's no information on the price points for Haus Beauty, but I think Gaga always has her fans at heart. And while there's not an official launch date yet, I guarantee this new venture will not be a "Bad Romance."