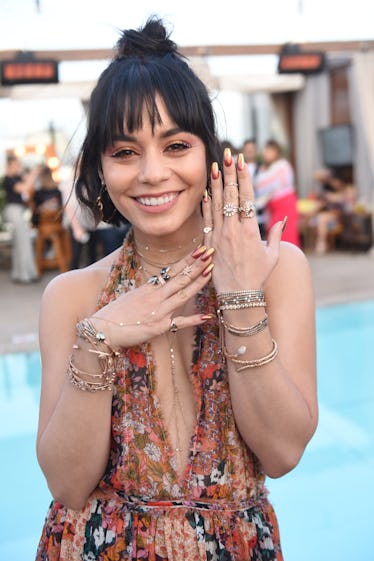 Vanessa Hudgens Is Dropping $3 Festival-Inspired Nail Polish & That's Not Even It
Vivien Killilea/Getty Images Entertainment/Getty Images
Coachella weekend two is almost here, but music festival season is just getting started. Whether you're going to be hitting up a couple of concerts, festival stages, or just looking to evoke the colorful summer spirit into your makeup bag, Vanessa Hudgens Sinful Colors Festival Collection will have you covered. Her nail polish and eyeshadow collaboration is beyond adorable, and I will for sure say OK to this line.
Sinful Colors and Vanessa Hudgens teamed up just in time for weekend one of Coachella. The duo launched a 12-piece nail polish collection and a colorful eyeshadow palette that is beyond bold. I love changing up my nail polish colors in the summer, and this line is actually affordable. The Vanessa Hudgens Festival Collection Nail Polish ($3, ulta.com) comes in colors such as gold, orange, and aqua. The polishes are available at Ulta stores and online.
The collection comes with shimmer and creme finishes, so you really have the best of both worlds. Also, the formula promises to be long-lasting, so that you can say goodbye to chipped or cracked nail polish. The only thing you'll have to worry about is which performance stage you're going to hit up first.
Tapping Hudgens for this collaboration was a perfect choice. Originally she was named the Global Color Collaborator for the brand. Now she's created her own nail and makeup collection specifically for the festival season. The boho babe is a staple on the concert scene, and her festival fashion is envy inducing at best. In an exclusive interview with Marie Claire, Hudgens shared why she's obsessed with festival fashion.
I personally love playing with makeup, nail colors, and nail art and I feel like festivals are just a time you can express yourself without any boundaries. "
In addition to the nail polishes, Hudgens will also release the Sinful Colors Palatable Pleasures Eyeshadow Palette ($15, amazon.com) later on this month. The eyeshadow palette will include nine powder eyeshadows that come in a matte and shimmery finish. If you're obsessed with bold colors, the palette will consist of neon purple, mint green, and salmon pink. Don't worry, while the powders promise to be super opaque, you can easily blend them out for a softer (but still striking) look. If you're beginning to dip your toes into color, you can also blend these out with neutral shades. I personally love the look of having a neutral eye with color smudged close to the lash line.
At times, festival fashion can feel overwhelming and over-the-top, which is precisely the point, but there are ways to incorporate vivid color into your everyday life. According to Hudgens, if you're dipping your toes into bright hues, start slow and build your way up.
There are ways to incorporate color that aren't extremely overbearing. You can use your neutral eyeshadow colors and then pop a little blue in the corners of your eyes, and it'll just kind of brighten things up."
Hudgens is no stranger to rocking the rainbow, though. She's been playing around with makeup since she was a kid and credits her mother for that. In her household, makeup was a form of self-expression, and her mother didn't want her to grow up fearing color. Even at the age of seven, she was rocking a bold red lip. With this line, she wants to encourage people not to censor themselves and have fun with beauty.
I can definitely get behind that. Whether you want to rock colorful eyeshadows or nail polishes, there's nothing sinful about adding a bit of color to your life.