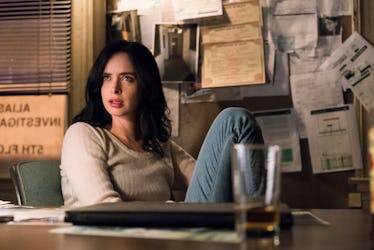 Here's Everything We Know About The Return Of 'Jessica Jones' Season 3
Marvel
It's been nearly three years since Jessica Jones first slipped onto our TV screens in her job as a spy and private eye. Season 1 debuted all the way back on Nov.r 20, 2015, the second offering that year after Daredevil Season 1. Since then, Daredevil has had a second season, but Jessica was shelved until her appearance on The Defenders last summer. Now with Season 2 only days away from arriving, fans are asking if they should binge slowly since it might be another three-year wait after this. When does Jessica Jones Season 3 premiere? Will Netflix make us wait forever to see Jones again after we're done binge-watching Season 2?
There are several factors that kept Jones from streaming her own series after Season 1. Netflix was only just debuting the Marvel series in 2015. Daredevil was such a huge hit when it arrived, Netflix's system of automatically greenlighting series made it so a second season was immediately pushed to come out at the beginning of 2016. This way, both Jessica Jones and the next Marvel show after hers, Luke Cage, would benefit both from being introduced in Jessica Jones' first season and from having Daredevil lead-ins earlier in the year.
Once Luke Cage was heralded as a hit the same way Jessica Jones was when it arrived in fall of 2016, Netflix got more confident. They moved to a three-Marvel-shows-a-year schedule starting in 2017. Iron Fist was not the hit of the first three. But The Defenders, following in the late summer, fared better. The Punisher, Daredevil's first direct spinoff, rounded out the trio in November of last year.
What does that mean for Jessica Jones going forward, now in the top-of-year position for the three shows arriving in 2018? Jessica Jones Season 2 arrives in March, with Luke Cage Season 2 to follow (fans assume that to be in August/September), and then Daredevil Season 3 after that (most likely in November/December).
With three shows a year, Marvel will be cycling through faster than they did before. They're also not automatically greenlighting series for new seasons like they used to. So, while Iron Fist is already filming a second season most likely for release at the beginning of 2019, chances are if it doesn't improve massively, it will be canceled. The Punisher is also in the middle of adding characters for Season 2 and is expected to go into production after Daredevil Season 3 finishes filming.
That leaves one slot left for 2019. It could go to The Defenders Season 2, but Netflix has not made a decision on that yet, nearly six months after the first run of episodes. As I mentioned, Netflix isn't greenlighting everything in sight anymore, but the longer they don't give the go-ahead for a second season, the more it becomes a bad sign for the chances of the crossover show's return.
With the accelerated filming schedule already in place, Netflix could decide to just go ahead and greenlight Jessica Jones' third season right after Season 2 arrives, especially if it gets reviews and audiences on par with the first season. Greenlighting it to begin filming after The Punisher would put it on track to arrive the end of 2019.
While some reviewers might agree this would be for the best, Jessica Jones star Krysten Ritter, for one, would be disappointed. She was a big fan of the crossover show and has been vocal about wanting to do another team-up, even if Jessica herself would probably complain.
Jessica Jones Season 2 debuts March 8, 2018. Luke Cage Season 2 has completed filming but does not have a premiere date yet. Daredevil Season 3 is still in the process of filming and is expected sometime in late 2018. All will be streaming on Netflix.