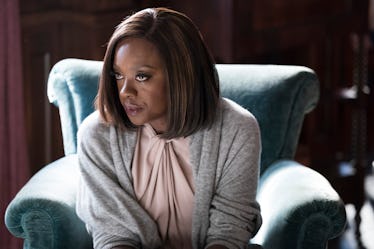 The 'HTGAWM' Season 4 Finale Is Coming, So Start Getting Ready For Season 5
Moving aside just in time for new Shondaland series Station 19 to debut, How to Get Away with Murder wraps up Season 4 this Thursday, March 15. The season has followed Annalise's search for ways to win her class action lawsuit, as well as Laurel's premature birth and the characters discovering who was responsible for Wes' murder. As always, it's been an insane season, but fans are anxious for more. So, when does How to Get Away with Murder Season 5 premiere?
Technically, the show hasn't been picked up for another season yet. Although inaugural series The Good Doctor was renewed for Season 2 and Scandal and Once Upon a Time received their cancellation notices awhile ago, ABC still has to announce how the majority of its primetime dramas will fare next season. But let's be real – TGIT shows don't go away easily. If HTGAWM's end was in sight, ABC would likely confirm it before a final season even aired, and fans probably would have sensed it long before an official announcement.
While the show's ratings have dramatically decreased since its first season in 2014, it's safe to say that Season 5 is probably a guaranteed deal. How to Get Away with Murder creator Pete Nowalk also recently extended his deal with ABC Studios by three years, suggesting that the show has at least three more seasons in its future. Seeing as pretty much no show can logistically reach the longevity of Grey's Anatomy nowadays, seven seasons seems to have become a standard, respectable length for Shondaland series. After all, Scandal is drawing the curtain after its own Season 7, and Private Practice lasted six seasons.
In Season 4's penultimate episode, "The Day Before He Died," fans were shook by the news that there had been a car accident presumably involving Bonnie's vehicle.
Before the episode concluded, viewers caught sight of a body being loaded into an ambulance, which launched countless theories about Bonnie's fate on the show and potential plot twists including a completely different character.
Of course, there was also demand for confirmation of the show's renewal.
If anything, the show's recent crossover with Scandal helped it gain some steam in the quest for another season. Calling scenes with Viola Davis' Annalise and Kerry Washington's Olivia together "wish fulfillment," Nowalk said to Variety:
Shonda [Rhimes] and I decided to do this because Olivia and Annalise's stories really met in a very organic way in terms of that they both have fallen from grace and really need to redeem themselves. It's interesting to have to rely on a stranger to redeem yourself. They don't know each other, they may not like each other, they have very different styles, so how do they develop enough trust to take on this huge project?
When How to Get Away with Murder (temporarily?) leaves the ABC Thursday lineup after its finale, Scandal will take over its 10 p.m. ET slot beginning March 29. It remains in that spot until its April 19 finale, when Quantico – notably not a Shondaland show – replaces it for the rest of its own season. New series Station 19, premiering on March 22, will air at 9 p.m. on Thursdays, while Grey's Anatomy remains in the popular 8 p.m. space. I hope TGIT fans have plenty of wine to help them cope with those changes.
As we approach the last two months of the regular TV season, I'm sure we'll hear about How to Get Away with Murder's future very soon. Stay optimistic, guys, it's in good shape!
The Season 4 finale of How to Get Away with Murder airs on Thursday, March 15, at 10 p.m. ET on ABC.