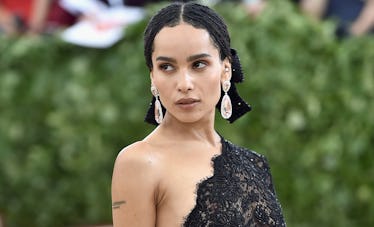 Zoë Kravitz Is Getting Her Own Show On Disney's Upcoming Streaming Service
Theo Wargo/Getty Images
Zoë Kravitz's TV career expanding beyond Monterey. After she returns for the second season of Big Little Lies, Kravitz has booked her next small-screen role: top-lining her very own series for Disney's new streaming service. Kravitz has just been brought on board to star in and executive produce a series adaptation of the 2000 romantic comedy High Fidelity, Deadline has confirmed. So when does Zoë Kravitz's High Fidelity premiere? Let's break down everything we know about the new rom-com series.
The casting of Zoë Kravitz means that the new High Fidelity show will be a gender-swapped version of the 2000 John Cusack movie, and the 1995 Nick Hornsby novel on which that was based. In its original iteration, High Fidelity centered on a music-obsessed record store owner who was unable to keep any long-term relationship afloat. Likewise, Kravitz will also be playing a record store owner who is obsessed with music, pop culture, and making her own top five lists. Presumably, the series will follow a similar structure to the movie, and Kravitz's character will seek help from some of her old flames in order to pin down why she cannot keep a relationship going.
Interestingly enough, Zoë Kravitz already has a very personal connection to the original High Fidelity movie. Her mother Lisa Bonet starred in the film as the singer Marie DeSalle.
Unfortunately, not much else about this new High Fidelity series is known at this time. We do know that Disney has picked it up for a ten-episode season, and that it is being written by Ugly Betty scribes Veronica West and Sarah Kucserka. The only cast member that we know about so far is Zoë Kravitz, and as far as a premiere date, we will have to wait about another year at least. Since High Fidelity will air on Disney's new streaming service, the streaming service itself first has to launch. The Disney streaming service is expected to become available sometime towards the end of 2019, so High Fidelity will likely premiere at around that time as well.
High Fidelity is the latest in a number of properties that Disney is adapting for series for its upcoming streaming service. The new streaming service is also confirmed to launch shows adapted from Monsters Inc., Star Wars, The Muppets, High School Musical, and a number of shows drawing from Marvel Comics heroes (including confirmed standalone series for Loki and Scarlet Witch). The service is also turning a few other Disney classics into new movies, such as Lady and the Tramp, The Parent Trap, and Honey, I Shrunk the Kids.
Her starring role in High Fidelity will mark Zoë Kravitz's second main TV role, after recently starring in the HBO juggernaut Big Little Lies as Bonnie Carlson. Fans are predicting that the upcoming second season of Big Little Lies will focus on Bonnie even more, which would be a great lead-in to Kravitz's leading role in High Fidelity. Look for the new High Fidelity series to premiere on Disney's streaming service sometime towards the end of 2019.