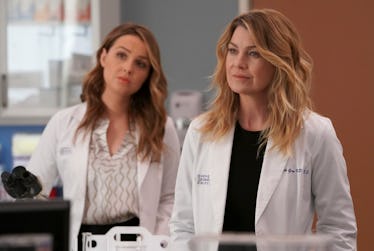 Here's Everything We Know About 'Grey's Anatomy' Season 15
ABC/Byron Cohen
It's hard to believe, but in September, Grey's Anatomy will be returning for Season 15. Let that sink in for a second. 15 seasons. Somehow, Grey's has managed to stay fresh for a decade and a half, and its fans still watch the show with the same amount of excitement as they did when it first premiered in 2005. Now that Season 14 is almost over, I'm desperate to know when the show will return for another installment. So, when does Grey's Anatomy Season 15 premiere? It's going to be a long summer Grey's fans — but at least there are 14 seasons available to binge watch on Netflix to help tide you over.
In April, ABC renewed Grey's Anatomy for Season 15, making it the longest-running series in the network's history. No official date has been set for the Season 15 premiere, but expect it to air sometime in September with ABC's other dramas. The Season 14 premiere aired on Sept. 28, 2017, so if the network keeps Grey's in its usual 8 p.m. Thursday time slot (and I can't imagine why ABC would change it), it's possible that Season 15 will premiere on Thursday, Sept. 27, 2018. The exact number of episodes in Season 15 has yet to be announced, but the new season will likely have a full 24-episode order, the same amount as previous seasons (except for Season 1). If you want to be prepared for Season 15, make sure you have 24 boxes of tissues on hand come September.
What should you expect in Season 15? Meredith Grey herself, Ellen Pompeo, weighed in on the question in a recent E! News interview, and her answer may surprise you.
I'd like to get in to neurological diseases, and disease in general and talk about what's causing it. What we're ingesting, what we're inhaling, the chemicals that are in our food, water, air — what really is making people sick. I'd love to deal with that.
Interesting. This would definitely be a departure from Grey's Anatomy's usual complicated surgeries and bed-hopping story lines, but it may be exactly what the series needs — and it just may win Meredith another Harper Avery award. Pompeo's goals are admirable, but she acknowledges that doing something so daring might not be possible on a network drama:
I don't know if that's a popular thing on network television and sponsors may not like that, so I don't know that we'll do that. We can't be so political, right? We're half rom-com, half procedural, but I would like to tackle the issue of illness and the chemicals in our environment that are poisoning the planet and our people.
I'm pretty sure that Meredith (and Pompeo) can accomplish whatever they set their minds to, so I'm not too worried about Grey's Anatomy being able to pull this one off.
You may think that after years of experience, producing the show is now a breeze, but according to Pompeo, that's incorrect. The star told E! that everyone is hyper-aware that they must outperform themselves, and the cast and crew have made a sort of game out of it:
We're in a competition with ourselves, like: Can we keep the quality up? Can we keep the storytelling up? Can we keep this audience? So, it's kind of a fun competition we're in with ourselves.
Fifteen seasons is a long time for a show to be on the air, but don't worry: From the looks of it, Grey's Anatomy will be around for many more seasons. In 2017, Pompeo signed a massive $20 million-a-year deal with ABC that made her TV's highest-earning actress on a drama series. The deal covers Seasons 15 and 16, so even though Season 16 has not officially been approved, it's safe to say that it will happen. Pompeo discussed the deal in a January interview with The Hollywood Reporter, and if you haven't read the interview yet, do it ASAP. It's a hilarious behind-the-scenes peek at Grey's Anatomy, plus a badass guide to negotiating a salary that acknowledges with your worth.
There are only two episodes left in Season 14 of Grey's Anatomy, so if you want to stay up to date for Season 15, be sure not to miss them. After all, there's no such thing as an uneventful Grey's season finale.
Grey's Anatomy airs at 8 p.m. ET Thursdays on ABC.