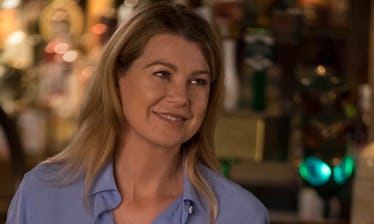 'Grey's Anatomy' Season 14 Is Headed To Netflix Much Sooner Than You Think
ABC
Grey's Anatomy just said a temporary farewell courtesy of last week's finale, but that doesn't mean fans will have to very long to re-watch the most recent season or catch up on what they missed. When does Grey's Anatomy Season 14 hit Netflix, you might be wondering? Prepare to scrub in with Meredith and Grey Sloan Memorial Hospital sooner than you think.
While some people get excited to turn the page on their calendars because they can't wait to check out their horoscopes, I'm over here getting pumped for new titles to come to Netflix. As my fellow binge-watchers know, the streaming service blesses viewers with a fresh crop of entertainment possibilities every month. And while June brings warmer weather, the summer solstice, lots of graduations, and National Onion Ring Day apparently, it will also give you a heaping handful of new Netflix shows and movies to watch. The full list of June 2018 additions won't be released until Wednesday May 23, but Elite Daily can exclusively reveal that Grey's Anatomy Season 14 is slated to be on the roster. Remember the days when you had to record your favorite episodes or sit around hoping for the right re-run all summer? Those times are over, y'all.
Next month also sees the return of some beloved Netflix originals as well as a few anticipated premieres. Mark those calendars because Sense8, which was canceled last year, will be launching its special final episode on June 8 if you're in need of some closure.
Season 1 of Netflix's new original series The Hollow will also debut June 8. The show is described as "three teens join forces to find a way home after waking up in a strange realm filled with magic portals, perplexing puzzles and vicious beasts."
The Netflix film Alex Strangelove is set to hit the streaming service on June 8 as well. The high school coming-of-age comedy surrounds a senior hoping to lose his virginity who is faced with questioning his sexuality.
Season 2 of Marvel's Luke Cage is coming to Netflix on June 22 after a long hiatus. The upcoming installment's synopsis teases:
After clearing his name, Luke Cage has become a celebrity on the streets of Harlem with a reputation as bulletproof as his skin. But being so visible has only increased his need to protect the community and find the limits of who he can and can't save. With the rise of a formidable new foe, Luke is forced to confront the fine line that separates a hero from a villain.
It's also almost time to break out your finest Lycra. One of last year's most critically acclaimed Netflix shows, the Golden Globe-nominated GLOW, is entering the ring for its sophomore season on June 29.
"A new aspect to this season that is sort of the polar opposite of last season is that we start to see some competitive aspects coming into the women's lives in respect to each other," star Alison Brie revealed to HelloGiggles about what to expect when the Gorgeous Ladies of Wrestling slip back into their leotards. "Now they're having to compete for air time, whose matches are going to be the best on the show, things like that. So it is sort of a new thing that we're playing with."
And Orange is the New Black loyalists might be shaking their heads about now. The last four seasons of the prison dramedy were released in June, but that doesn't mean Season 6 isn't on the horizon. (The show was picked up for both a sixth and seventh season, if that offers up some relief). Filming for the next chapter of the series already took place, so fans should probably expect a release date sometime soon.
In the meantime, I'll enjoying a Grey's-tastic summer. June is looking up, people.