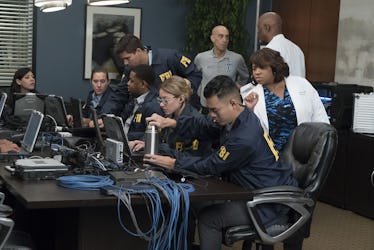 'Grey's Anatomy' Is Taking A Serious Holiday Break, Here's When It Returns
ABC
The show that never ends, Grey's Anatomy, is finally coming to an end. A fall finale end, that is, to accommodate the holiday break. The last episode for 2017 actually happened already, back on Nov. 16, just before Thanksgiving. For most shows, that was a one week hiatus, and they're all returning to finish out their final episodes. But not Grey's! It's done for the year, and will not be returning until after all the holidays are over. So when does Grey's Anatomy come back? And how many more episodes will we get this season when it does?
TV show seasons are not like regular human years. A show that lasts seven seasons, is generally considered to have a nice long life, but not one that ran on so long as to have risked serious aging issues, so perhaps we could equate it to making it to the age of 70. If so, then one TV season could reasonably be interpreted as being the moral equivalent of 10 human years.
If so, then Grey's Anatomy is an old show indeed, bordering on 140 years old. That's long. That's the kind of age when everyone needs a nice long nap in between the fall and spring halves of the broadcast network season. It's not like they're still a young show, like This Is Us, which would be the moral equivalent of a teenager, and can jump right back in the game on the 2nd of January, the day after New Year's. They need their rest.
With that sort of rest time in mind, it makes perfect season that Grey's Anatomy will come back in January, but not until the later half. In fact, the show will take a full two months between their Nov. 16 finale and its return. The final episode before the show went off the air, which was entitled "Out of Nowhere," saw a hacker take down the hospital's technology for ransom, and left the Doctors functioning like it was the 1980s.
Check out the synopsis:
A hacker compromises the hospital's computer system, causing monitors, phones, labs and patient files to all go down. As technology fails them, Bailey attempts to keep the peace but chaos erupts and the doctors are forced to get creative in their methods to treat the patients,
The return episode, which does not yet have a title or a synopsis, will see the aftermath of the FBI's investigation, when the show finally returns on Thursday, Jan. 18, 2018.
As it has done for the last few years, when Grey's Anatomy returns, it will bring with it both the finale season of Scandal, as well as the continuing hit, How to Get Away With Murder.
For those who are devastated to realize that their somehow still chugging along corner of Shondaland will be barren for the next two months of winter, do not cry. One of the good things about Grey's Anatomy having last so long is that they've long passed into syndication, and can be found rerunning en mass on random spaces in the television landscape in marathon format. In fact, Lifetime is doing a marathon of Season 9 right now!
All completed 13 seasons are also currently available on Netflix. This is great, especially for the younger crowd who were mere children when the show began back in 2005, and need to begin the long haul binge watch to catch up before Season 14 returns.
Grey's Anatomy Season 14 will return for the second half of the season on Thursday, Jan. 18, 2018 at 8 p.m. ET on ABC. it will be followed by Scandal at 9 p.m. and How to Get Away With Murder at 10 p.m.