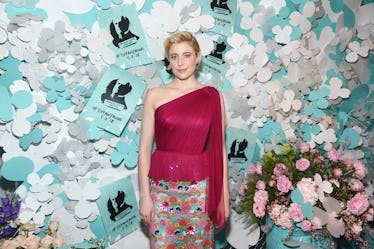 Greta Gerwig's 'Little Women' Finally Got A Release Date & It's Going To Be A Great Holiday Season
Jamie McCarthy/Getty Images Entertainment/Getty Images
Little Women was written by Louisa May Alcott in 1868. It proved so popular she followed it up with a sequel entitled Good Wives a year later, but most girls who have read the book receive it as one massive tome, and both movie and TV versions rarely treat them as separate stories. Gerwig's latest adaptation is no exception and seems to be aiming for family viewing with the recently announced release date. When does Greta Gerwig's Little Women premiere? Why, Christmas, of course.
"Christmas won't be Christmas without any presents" is the opening line in all 17 adaptations of the story since the first silent movie version in 1917. But Christmas will be Christmas, presents or not, because Little Women is slated for theaters on December 25, 2019, making it the main competition against Star Wars: Episode IX, which arrives a mere five days earlier.
No cast has been formally announced yet for the Gerwig adaptation, but the rumors are flying as actors and actresses make sure to publicly attach themselves to what will be this generation's definitive adaptation, much like many of the Gen-X crowd see the 1994 adaptation to be the One True On-screen Version*.
(*Personally, I say Katherine Hepburn in black and white or bust.)
Currently, actresses Saoirse Ronan, Emma Stone, and Florence Pugh are attached as three of the sisters, though rumors vary as to who will play who. Best guesses seemed to suggest Stone as oldest sister Meg, Ronan as the main heroine Jo, with Pugh as the secondary principal sister Amy.
Timothée Chalamet is also attached, who everyone assumes will be Laurie, mostly because he looks like the platonic ideal of Laurie. But perhaps assumptions shouldn't be too quick. When Meryl Streep was first listed, everyone assumed she was going to play Marmee, but this has since been corrected to the far more exciting and far less simpering Aunt March.
The most recent actor to be added to the ever-growing roster: James Norton of Grantchester fame, naturally in another romantic role. The press release does not reveal if he's slated as Laurie's tutor John Brooke, who Meg marries, or if they'll stick a beard on him and have him play Jo's Professor Baehr.
If everyone attached stays that way by the time the film hits theaters next year, the A-list cast of this magnitude and a Christmas release suggest not only is Gerwig going for a 21st-century definitive adaptation, but awards gold as well.
The Oscars have fallen out of the habit of rewarding "family" fare of this nature — the last time it handed the Best Picture trophy to something "all ages" was the early aughts with the back to back wins of Chicago! and Lord of the Rings: Return of the King. Before that, one has to roll all the way back to the 1960s and Oliver! Though there have been numerous versions of Little Women over the last century, none has ever even made the Best Picture nomination.
It will be interesting if a combination of Gerwig, Streep, and sheer star power can alter those odds. Little Women arrives in theaters on Christmas Day, Dec. 25, 2019.