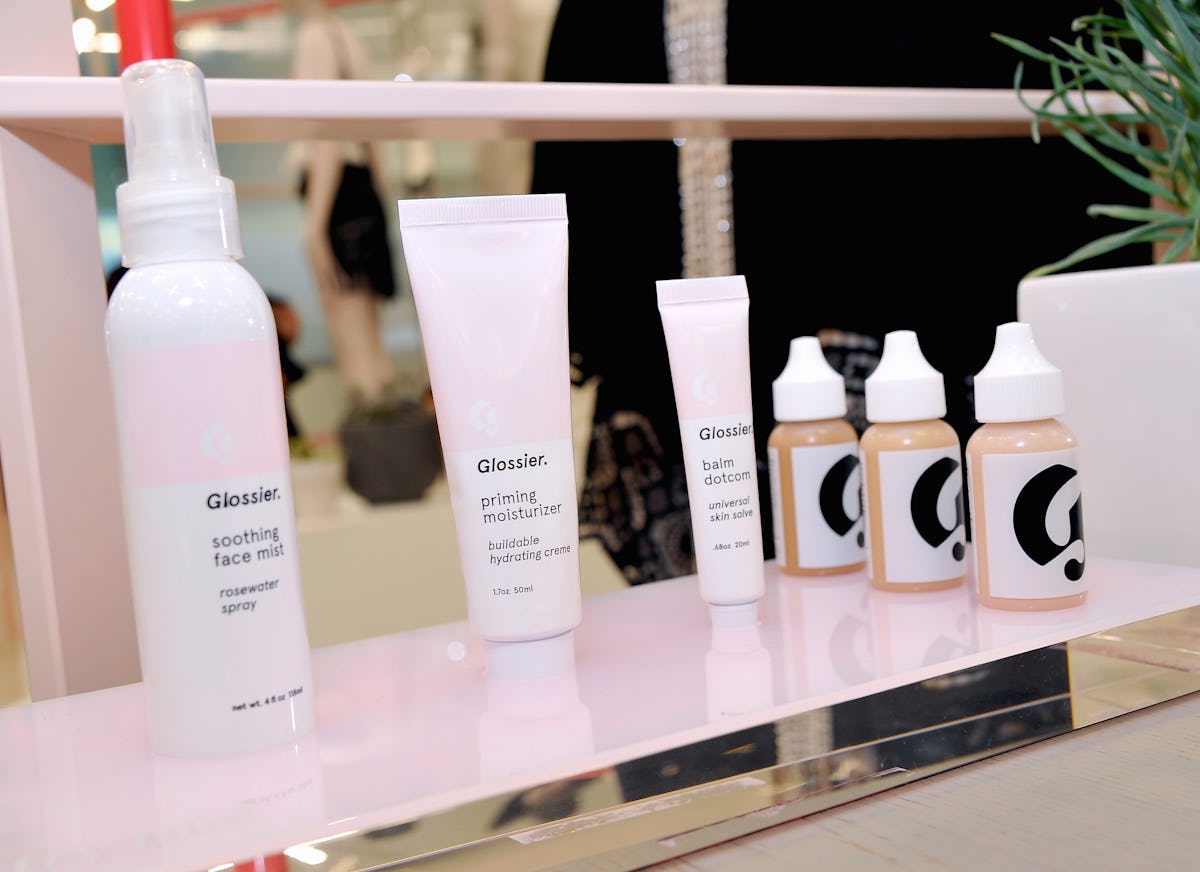 Glossier Is Dropping A Liquid Exfoliant & It Might Be The Acne Cure You've Been Waiting For
John Sciulli/Getty Images Entertainment/Getty Images
There's about to be a new beauty product in town that's promised to outshine all of its competitors — literally. Cult-favorite brand Glossier sneakily revealed that they've created a magical elixir rumored to transform your skin into its glowiest self ever, which has fans wondering, when does Glossier Solution exfoliant drop? The brand's motto is "Skin first, makeup second," so you know it's going to be good.
If you're thinking, "WTF, Glossier is creating an exfoliant, how did I not know about this?!" then you're in good company. I, a self-professed Glossier addict, hadn't heard of or seen the launch either until the second I was assigned this post. That's because the exfoliant wasn't announced in the brand's usual way.
Typically, Glossier will reveal a new product via an Instagram post featuring an image of whatever they're dropping, with a caption encouraging readers to shop it on their site. In other words, the second they announce a product launch on social media, it's already available for purchase. That's how their two latest releases — the Body Hero duo and You fragrance — worked, but it seems the brand is trying a new, less blatant method out for size. Right not, there isn't even a photo of the upcoming exfoliant.
In a very candid post on the brand's blog entitled "How To Beat Acne? Stop Hiding It," gTeam editor Manouska Jeantus details her complicated relationship with her skin. "To me, my skin isn't just skin. My relationship with it goes well past blackheads and brightness and pore size," she writes. "Many women of color, myself included, experience what I've been referring to as a 'color complex' — where skin feels like this multidimensional cloak that presents itself to the world on your behalf." Having suffered from serious acne since age 11, Manouska also details every treatment she's tried (Proactiv, topicals, oral medication, and drugstore products all failed to help) and recounts years of caking on makeup to try and hide her blemishes.
The very personal post culminates in Manouska writing, "With 2018 looming, it's time to face what constant picking, popping, and scratching for 16 years has yielded. It's time to give healthier skin an honest go — whatever that means." For her, it meant beta testing — you guessed it! — Glossier's upcoming release: a liquid exfoliant called Solution. Evidently, members of the product development team gave her a bottle of the product that's meant to "control acne, retexturize skin, and turn up the brightness." She vowed to test drive the product for an entire month, during which she would also go makeup-free. If you've ever suffered from serious acne (here, here!) then you know how gutsy and scary of a move that can be.
Seeing as Solution is a chemical exfoliant rather than a physical one, I have high hopes for its effects. The purpose of exfoliants as a whole is to get rid of dead skin cells, which can be done in two ways: by sloughing off cells with small grains, a brush, or a scalpel; or by removing them chemically. The latter is not only more gentle on your skin, but it also aids in cell turnover, helps with smoothing and brightening, and results in super glowy skin. Into the Gloss itself has written that facial scrubs "aren't as effective or as gentle as chemical exfoliation," which pretty much confirms that Solution contains AHAs, BHA's, lactic acid, glycolic acid, or something similar.
Manouska writes that she's about halfway through her dermal experiment and that, along with help from Glossier's Milky Jelly Cleanser, La Prairie eye cream, and Pai Geranium & Thistle Rebalancing Day Cream, Solution is working its magic. "These days, I catch myself touching my face and whispering, 'Wow, whose skin is this?'" she writes. "The texture is smooth and the daily breakouts are minimal to none."
Hallelujah! Could this be the miracle product we've all been waiting for? Although Solution is not currently available on Glossier's website (as I mentioned above, this is not typical of Glossier product announcements), I can't wait to give it a try, whenever it is released. We know that it will be in 2018 — and my bets are that it will be here within the next month.
Glossier is not one to keep their fans waiting...especially not for a product that pretty much guarantees better skin.