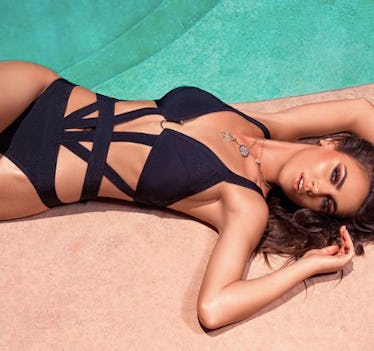 Fashion Nova Is Launching A Beauty Line & It'll Complete Your Thirst Traps To Perfection
fashionnova on Instagram
Fashion Nova has done an incredible job at marketing their club-appropriate, affordable fashion line. I mean, I'm not exactly their target market, but with so many shoutouts on my Instagram feed, even I've considered perusing the site for some new wardrobe staples. With celebrities like Cardi B and Kylie Jenner posing as walking bilboards, it's no wonder why the brand is so successful. But while the brand is seemingly on top of their game, Fashion Nova announces a brand new venture that's about to skyrocket their success to a while new level. So, when does Fashion Nova's beauty line launch? That's right, the brand is going to try their hand at beauty products, and it's coming sooner than you think.
I visited a Fashion Nova store once about a year ago— I was last-minute shopping for a birthday outfit. After sifting through racks of body-con dresses, I hauled a few pieces to the dressing room. Ten minutes later, I couldn't get out of that dressing room fast enough. Nothing looked good on me. Maybe I wasn't used to the styles — I felt like I was on display. My boobs were out, everything was tight on my butt (intentional on Fashion Nova's part), and I instantly felt uncomfortable. But everything looks so good on Instagram!
If you're like me and you feel like you want to own a part of the brand, but you just can't get down with midriff-bearing two-pieces, fret no more. Fashion Nova just confirmed a beauty line is coming and it's called Nova beauty. In a Business of Fashion story, Fashion Nova CEO Richard Saghain reveals there's an in-house beauty line in the works and will make its debut late this year or early next. No word yet on whether the line will focus on makeup over skincare or if haircare products will be included, but I can only imagine the range will reflect current beauty trends. Think contouring palettes, false lashes, eye shadow palettes, etc. "We are transforming FashionNova.com into a one-stop shop lifestyle destination," Saghian told Business of Fashion.
While fashionnova.com already offers a small selection of indie beauty products, Nova Beauty will expand on the current selection. Although CEO Richard Saghian hopes to bring on more brands that you'd commonly find at Sephora and Ulta—the BOF story didn't reveal exactly what we can expect. I'm thinking we could definitely expect to see some Kylie Cosmetics' products on the site, considering Kylie Jenner is already a fan of the fashion line.
Given their 12.5 million followers on Instagram, not to mention their loyal band of influencers and celebrity clients, Nova Beauty could easily rival the major beauty meccas and Insta-famous beauty brands. They've already dominated the social-media driven female fashion market, and even dabbled in men's affordable clothing. Seriously, even my husband was pumped by the announcement of Fashion Nova Men.
I've never not been excited about a new makeup launch, but Nova Beauty is one that I'll be eagerly awaiting. Again, there's no exact date on when the new collection will launch but it could be coming as soon as the end of the year. That's as soon as five months from now. But if you're as anxious to see what the launch will bring as I am, keep a close eye on your Instagram feed. There's sure to be a flurry of made-up faces paired with body-con dresses to announce the arrival of Nova Beauty. There's also no word yet on the projected price range but judging from their current prices, you'll be able to stock up on all the essentials for cheap.