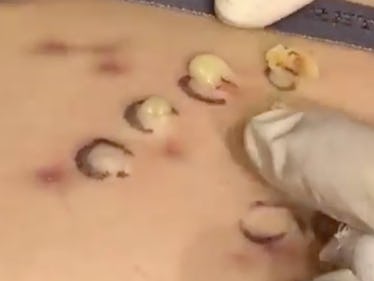 A Dr. Pimple Popper TV Show Is Happening, So Get Ready To Binge Watch/Throw Up
To all of my fellow weirdos who fall asleep scrolling through zit popping videos, I have incredible news for you. Earlier this week, a Dr. Pimple Popper TV show was announced, and I for one cannot wait to watch the queen of dermal extractions do what she does best on the big screen. But when does the Dr. Pimple Popper TV show start? Aptly titled This is Zit, the show is set to premiere on Jan. 3 at 10 p.m. EST on TLC (hence the so-bad-it's-good name).
In case you're not familiar with Dr. Pimple Popper, let me give you a little background info on her. Her real name is Dr. Sandra Lee and she is a certified dermatologist who lives in Southern California. Thanks to her incredibly satisfying (IMO) videos that show her popping zits, cysts, and the like, she's garnered an insane social media following, with 2.6 million followers on Instagram and 3.2 million subscribers on YouTube. Yeah, the clips are that good, and Dr. Lee's captions and correlated background music are also hilariously clever. (One of her blackhead removal videos on Instagram is set to a slow cover of Icona Pop's "I Love It.")
As described on her YouTube channel, Dr. Lee aims to "educate you about different diseases of the skin, hair, and nails, and give you some skin care advice" through her posts. As an avid fan of her Instagram channel, I can say firsthand that her videos are as informative as they are addictive (I once spent an entire hour watching blackhead extractions and pimple poppings). I've learned about milia, which are tiny keratin-filled cysts that are impossible to pop on your own, as well as the various tools used for blackhead removals, like the comedone extractor and curved blackhead tweezers. And while I'll admit I've seen some videos on her pages that go a little too far for me (the ones featuring large cysts that require a scalpel for popping, for example), there's no denying that there's an audience for them.
If you're thinking, ewww, this is disgusting, I totally understand. Pimple popping videos are definitely not for everyone. My best friend and I send really good ones to one another as little love notes, but I realize few would find this a loving gesture. For us, they're cleansing and satisfying and purifying. Which is why we, along with every other pop-aholic, will undoubtedly be binge-watching the new show.
Before she announced the actual show, Dr. Lee took to Twitter to announce she'd teamed up with TLC and Facebook Watch (the social media platform video on-demand service) to create a series also called This is Zit. As she described it, "It's behind the scenes footage of what I do in my office, how I go about doing it, more explanation about the types of things I pop out, a lot of my favorite videos, a lot of my top pops that are there just for you." Currently, the show's Facebook page has one video on it, in which Dr. Lee "breaks down her process for excising an epidermoid cyst, and reveals what is REALLY going on beneath the surface," according to its description. As I mentioned, I can't watch cyst videos, but if you're into them it looks to be a big one.
A few days later, Dr. Lee announced her official television show with TLC on Twitter. "Let's show those popaholic pansies what's upppp!!" she wrote.
TLC also announced the show via Twitter and naturally, the internet got very excited.
And perhaps best of all...
Pandora has a good point. Show us the good stuff, TLC, or we'll have to stick to social media.