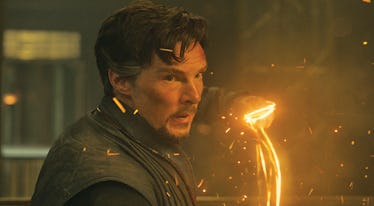 'Doctor Strange 2' Will Reportedly Begin Filming Next Spring, So Get Ready For More Magic
Marvel
It sounds like Marvel has selected the next movie in its slate of upcoming projects. Although the superhero studio has yet to officially announce a sequel to 2016's mystical Doctor Strange, it seems pretty clear that Marvel is setting its sights on another standalone for Stephen Strange in the near future. Not only did Marvel boss Kevin Feige pretty much flat-out promise a Doctor Strange follow-up, but now, there is a report that claims the new movie will being filming in a matter of months. So when does Doctor Strange 2 premiere? Let's talk about when fans can probably expect Doctor Strange to make his big return.
Of course, any time that a new movie comes out in the Marvel Cinematic Universe, it is pretty much a given that there is also a sequel in the works. But still, Marvel has not yet officially confirmed that Doctor Strange 2 is happening. That does not really matter all that much, though, since Marvel boss Kevin Feige assured fans that another Doctor Strange movie is definitely coming a couple months back:
[Doctor] Strange, you know, whenever we do another Strange [movie], which we will do, it will be a number of years from the first Strange, and yet he's a very big part of Infinity War.
And now, some more news is coming out about the planned sequel. The Mirror is reporting that Doctor Strange 2 is scheduled to begin filming sometime next spring, and that the filming process may take about six months to complete. If that information is accurate, then fans can probably expect Doctor Strange 2 to premiere in theaters either at the very end of 2019 at the earliest, or more likely at some point in 2020.
Doctor Strange 2 will follow a few other major sequels that Marvel has planned. After the introduction of Brie Larson as Captain Marvel in her early 2019 standalone Captain Marvel, the MCU will continue with next summer's Avengers 4, which will directly follow-up Avengers: Infinity War and is expected to somehow revive all the heroes that appeared to be killed off by Thanos' snap, including Doctor Strange. Two months after that, we will get the Spider-Man sequel Spider-Man: Far From Home, and Guardians of the Galaxy Vol. 3 slated to premiere afterwards in 2020. Although Marvel has not announced it yet, there will likely also be a sequel to this year's massively successful Black Panther at some point as well.
The Mirror's report on Doctor Strange 2 did not only give us details on its potential release timetable, but also on a whopping raise that Benedict Cumberbatch is reportedly getting for the sequel. The report claims that Disney is paying Cumberbatch nearly $10 million for Doctor Strange 2, which is a big jump from the reported $3.2 million he received for the first Doctor Strange movie.
Before Doctor Strange 2 hits theaters, we will likely see the character again at some point in next summer's Avengers 4. After that, be on the lookout for Doctor Strange 2 to appear in theaters sometime in 2020, probably.