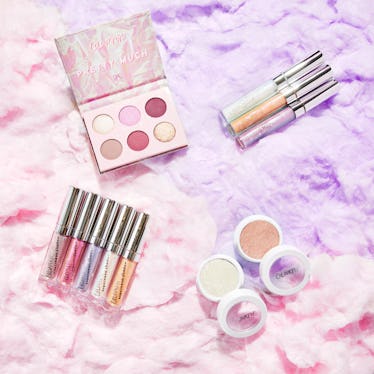 ColourPop Just Dropped A Valentine's Day Collection & It's Better Than A Hot Date
ColourPop
Whether you have a date for the most romantic day of the year or you're boycotting it with horror movies and ice cream, new makeup is definitely something to celebrate, and the latest makeup launch is bringing the romance. When does Colourpop's Valentine's Day collection drop? It actually already did and it's perfect timing to get you in the mood.
I'm a big fan of Valentine's Day! It was never about the dates, either. My birthday is the day before and I have the best memories of wearing pink outfits to school, sharing late-birthday cupcakes with classmates, and sifting through cute cards from my fellow middle schoolers. I don't know if it's the nostalgia of it, the fact that it reminds me of my birthday, or that I use it as an excuse to theme dress for the day, but Valentine's day is my thing.
I even passed out Valentine's Day cards and candy to my coworkers last year. They were Ninja-Turtle themed and I just thought it was the cutest day ever. So, imagine my delight when two of my favorite things collide: Makeup and Valentine's Day. And it's affordable makeup, at that. Be still my heart. *Insert all the heart emojis here.*
ColourPop, the makeup brand known for affordable beauty products and super pigmented shades, took to Instagram to launch theit new Valentine's-Day inspired collection called Moonlight Magic: "Just in time for Valentine's Day our #MoonlightMagic collection available 2/8 at 10 AM PST || 2 new super shock cheeks + 5 new supernovas + 3 new ultra glossy lips + 1 new 6 up pigment palette."
With a romantic color palette of soft pinks, silky whites, and wearable reds, I can already picture the endless makeup combinations of glossy lips, colorful lids, and sparkly cheekbones.
I think I'm most excited about these glittery liquid shadows! These ColorPop Supernova Shadows ($7, Colourpop) available in 5 different shades and give your lids so much dimension. I'm not sure if you've noticed, but lately I've been super into these duo-chromatic, iridescent-type shades. Needless to say I'm dying over these glittery pastel swatches below. Very Zenon: Girl Of The 21st Century. I mean, they're even called Supernova!
Before I go on though, I have to point out the striking resemblance to the new Cover FX Shimmer Veil shadows ($28, Sephora). With similar packaging, an almost identical color palette and tons of shimmer in both, ColorPop Supernova Shadows are a $7 dupe! Don't believe me? See Cover FX's swatches below. I'm not crazy right? They're so similar!
If liquid shadows aren't your thing, ColorPop also launched a new six-shade powder shadow palette and it's just what you need to turn up the heat this Valentine's Day. The Pretty Much palette ($12, Colourpop) is packed with the prettiest shades and cute names to boot. With names like "OTP," "Ya Bish," and "It Me," you'll be creating Insta-worthy looks in no time. Packed with golden and bronze shades as well as icy pink and burgundy hues, this is the affordable and versatile palette you've been waiting for.
If I get my hands on this palette, I'm blending the burgundy shades in my crease, packing the bronze shimmer on my lid, and swiping that candy pink shade on my lower lash line. Date night, here I come.
My go-to Valentine's Day makeup look in middle school was a clean face (I went to a private school so I wasn't allowed to wear a whole lot, but also, I was only eleven! Things were different back then!) and a super glossy lip. These days, I wear much more makeup, but I'm still all about a shiny lip. Luckily for me, Colorpop's Moonlight Magic collection includes three new shades of lip glosses. The Ultra Glossy Lip ($6, Colourpop) is now available in "Finesse" (a clear gloss with silver, teal and turquise shimmer), "Verbatim" (a peach gloss with pink and gold shimmer, and "My Forte" (a lavender gloss with green shimmer).
To round off the collection, ColourPop released two new Super Shock Highlighters ($8, Colourpop) in shades "Spellbound" and "Felicity." Swipe these pink and purple-hued highlighters on your cheekbones, brow bones and Cupid's bow (for luck, of course) and you'll be shining bright enough to nab you a date just days before Valentine's Day. And if it doesn't, who cares? Because girl, your makeup with be on point! And no woman needs a man to validate the sharpest cut crease and the shiniest cheekbones — you can do that all on your own.
Sure, my love for the day of love runs deep, but with a collection this good, how could you not be excited to celebrate Valentine's Day this year? Just as I never needed a date to enjoy February 14, you don't either. Beat that face with everything from Colourpop's Moonlight Magic collection and plan yourself a hot date: whether that's with a lover, your girls or yourself (self-care FTW).