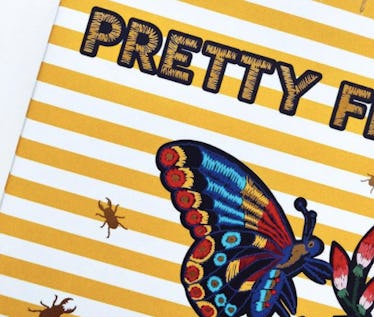 ColourPop Is Dropping A Butterfly-Themed Collection & It Looks Like A Spring Picnic
If I had to pick a spirit animal, it would definitely be a butterfly. They're beautiful creatures, come in so many different color pairings, and just scream "spring." That's why I've been obsessively searching when does ColourPop's Butterfly Collection drop in my spare time. Maybe, just maybe, this collection will bring about rosé season that much quicker.
It's no surprise that I keep up with the latest Colourpop launches because when it comes to the brand, I consider myself their number one fan. Their line includes pigmented Super Star Shadows, neutral eyeshadow palettes, and fleeky highlighters galore. In the wintertime, makeup lovers took to social media to beg ColourPop to release bright shades for the spring/summer season. Someone in the head office is definitely taking note. I'm all for the neutral shades, but this spring everyone is craving color.
The Butterfly Collection will include 14 new super shock eye shadows (six in a set and eight as individuals), eight new lux lipsticks, six new lippie stixs, and three new face duos. The inexpensive brand may have knocked it out of the park with this launch. After seeing sneak peeks of the collection, the battle for best spring makeup launch has officially begun. Hold onto your makeup brushes because this is going to be a tight race, and I'm not sure who's coming out on top.
One of my favorite beauty Instagram accounts (@Trendmood1) dropped sneak peeks of the collection on March 10, but there was little to no information on the goods. I don't know if I'll be rocking a butterfly tattoo à la the '90s, but I can tell you this collection is exactly what I dreamed of growing up. The packaging is vividly colorful and features both large and small butterfly decals, including yellow stripes and a few bugs (!). The swatches appear highly-pigmented and beyond-gorgeous. I would expect nothing less though, I mean this is ColourPop I'm talking about.
And for the cream on the top, the brand is currently hosting a contest that you can enter to win the entire collection. Based on the Trendmood1 and ColourPop previews, the colors will focus on muted jewel tones (with a rich consistency) and golden neutrals. Obviously, the colors should be very on-trend for spring, but still versatile enough to use year round.
Overall, the Butterfly Collection is very reminiscent of nature. If you're not an outdoorsy type of woman, and you'd rather brave a sample sale than go camping, you'll be able to join in on the spring vibes without having to actually go on a hike.
If you're unfamiliar with ColourPop, or you've seen them all over Instagram, I triple dog double dare you to take a peek at the website. I bet all that I have that you will not leave the site with an empty cart. Founded in 2014 by Seed Beauty, the California brand is vegan and cruelty-free. ColourPop had very humble beginnings, but four years later the brand is a powerhouse in the beauty community.
The brand launches collections faster than the Kardashians break the internet, and they're now available at Sephora and Ulta stores. According to the ColourPop website, their sole mission is to create products that any and everyone can indulge in.
Butterfly Collection, $170, ColourPop
Trends come and go, so it's super important to us that you can keep up with this ever-changing industry without breaking the bank. You can try out the latest trends without serious commitment because our luxury formulas are priced for experimentation. They're also, like, really pretty. We're dedicated to creating the best possible products in every shade imaginable for our loyal ColourPoppers & ColourPopettes."
This collection will be available on March 15 at 10 a.m. PST, but there hasn't been an official word if this line will be sold exclusively on the ColourPop website, or through Sephora and Ulta as well. For now, I would keep my eyes locked onto the ColourPop Instagram because they always let their followers in on breaking butterfly news.