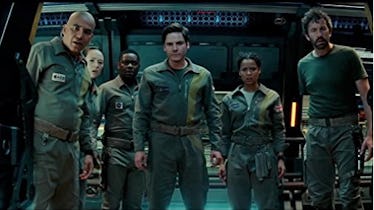 The Next 'Cloverfield' Movie Is Already On The Way, So Fans Need To Catch Up ASAP
Netflix
Plenty of movie trailers dropped during the Super Bowl on Sunday, but the biggest surprise among the pack was the promo for the unexpected Cloverfield 3, aka The Cloverfield Paradox. The sci-fi thriller was scheduled to hit theaters this spring, but its Super Bowl trailer announced that it would appear on Netflix as soon as the big game ended. Between the game running a little late and This Is Us draining any resolve you had left by midnight, you probably haven't had the chance to check out the new film yet. You should watch it ASAP, because Cloverfield 4 is supposedly coming sooner than later.
The fourth chapter of the franchise, reportedly titled Overlord, comes after much speculation about when The Cloverfield Paradox would finally be released. With the third film now available, reports suggest that the production team could try to rectify its failed idea of launching a new movie every year and release Film 4 sometime this year. Although the first Cloverfield film debuted in 2008, its unofficial sequel 10 Cloverfield Lane came in 2016, and two movies arriving in 2018 could certainly fit the franchise's tendency to announce films out of the blue.
As fans pointed out during the Super Bowl, the premiere date of 10 Cloverfield Lane was announced only two months beforehand. As The Cloverfield Paradox pulled off an unprecedented move with its same-day announcement and release, an even more surprising reveal of Overlord's availability could be in store.
The third film continued the anthology series' pattern of featuring different characters in the same world, and we can expect to see these same features in Overlord. Now that The Cloverfield Paradox has launched, we can definitely expect more information to come forward. Reports say that Overlord was initially scheduled for an Oct. 26, 2018 theatrical release, but given that The Cloverfield Paradox dropped on Netflix months before its planned premiere, all bets are off the table for the launch of Overlord. Its filming is reportedly finished, so who's to say that it won't appear on Netflix in the next month or so?
For now, we have an inkling of what the upcoming film will contain. While The Cloverfield Paradox introduced viewers to astronauts in a space station, Overlord reportedly plans to explore the story of American paratroopers stuck in enemy territory right before D-Day. As the men approach a Nazi-occupied village, they begin to sense that supernatural forces are at work. This will mark the first time the franchise goes back in time for a story, which makes it perfect for any history buffs in your life.
With a script written by Captain Phillips' Billy Ray and The Revenant's Mark L. Smith, the fourth film stars Jovan Adepo of Fences fame, Wyatt Russell, and Game of Thrones' Jacob Anderson. J.J. Abrams, no stranger to being at the helm of intense drama projects, returns as a producer of the film.
Even if you weren't familiar with the hype surrounding the Cloverfield franchise before Sunday night, it's clear that everyone wants to joke about how the fourth film ought to appear out of nowhere.
The franchise has adapted to the fast-paced, streaming entertainment world that developed over the past few years, but Abrams had a sense of the film landscape becoming this even when Cloverfield was first released. In a 2008 interview with TIME, he said:
I felt like there has to be a way to do a monster movie that's updated and fresh. So we came up with the Youtubification of things, the ubiquity of video cameras, cell phones with cameras. The age of self-documentation felt like a wonderful prism through which to look at the monster movie. Our take is what if the absolutely preposterous would happen? How terrifying would that be? The video camera, we all have access to. There's a certain odd and eerie intimacy that goes along with those videos. Our take is a classic B monster movie done in a way that makes it feel very real and relevant, allowing it to be simultaneously spectacular and incredibly intimate.
We'll have to wait and see if that intimate element of the digital age will still apply to a move set in World War II. Something tells me that we can definitely expect to see Overlord in theaters or online far before its supposed October launch.