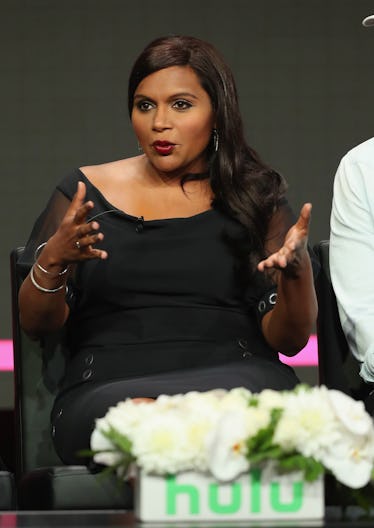 Mindy Kaling's New Show Is Coming Soon To Fill The 'Mindy Project' Hole In Your Heart
Joe Scarnici/Getty Images Entertainment/Getty Images
The Mindy Project wrapped for good on Hulu back in November and if you've been missing Mindy Kaling on your TV, we have good news for you. The writer/producer/director/actress/dream BFF has been working on a new television project for the small screen and its premiering sooner than you think. When does Champions premiere? The NBC sitcom is set for a midseason debut in just a few short months.
Champions is created by Mindy and Charlie Grandy, another alum of The Office and The Mindy Project. It centers around gym owner Vince, whose simple life is turned upside when his high school fling Priya (Mindy Kaling) drops their now-teenage kid on his doorstep. Vince will be played by the hilarious Anders Holm (Workaholics, The Mindy Project) and Andy Favreau (The Mick) is set to play his younger brother/roommate Matthew. J.J. Totah will step into the role of of Michael, Priya and Vince's 15-year-old son.
We're not surprised that NBC picked up the single-cam comedy to series back in May. The show will hit screens on Thursday, March 8 at 8:30 PM. Hey — that's old Must See TV territory. Not bad.
Although Mindy Kaling wasn't present at the Television Critic's Association Jan. 9, co-writer Charlie Grandy explained that his co-writer will appear "four or five episodes. She has a big part toward the end of the first season."
Congrats are in order for Mindy, and not just because Champions got the green light at NBC. She gave birth to a baby girl, Katherine Swati Kaling, back in December and is currently on maternity leave. "She was breaking stories before the baby was born and continues to comment and give notes on every cut," Grandy added at the TCA regarding Kaling's involvement.
Kaling spoke to The Today Show in September about impending motherhood, saying,
But I'd like to be the fun mom. I know I'm gonna be the dorky mom. So it could be kind of fun, too. I think that would be nice.
Mindy Kaling's career has skyrocketed ever since she became a household name playing Kelly Kapoor on The Office, a show she also has writing and executive producing credits on. The fact that she wrote some of the series best episodes, including "The Dundies" and "The Injury," is enough of a creative achievement to be proud of in a lifetime.
Kaling has appeared in movies like This Is The End and The Night Before, but 2018 is taking things to the next level in her cinematic career. An Oprah-tastic level, that is. Mindy is starring alongside Oprah, Reese Witherspoon, and young Storm Reid in the highly anticipated time-shifting celestial fantasy A Wrinkle In Time as Mrs. Who. We were pretty much glued to Instagram last year during filming in New Zealand because the cast's photos made it look like the most magical, joy-filled set imaginable.
Mindy is also a part of the ensemble cast of Ocean's 8 alongside names like Sandra Bullock, Cate Blanchett, and Rihanna.
The 38-year-old discussed working in film as opposed to TV with Deadline:
I'm excited about going into something I'm not so comfortable in, which is film. Having had Ocean's Eight and shot A Wrinkle in Time and waiting for them to come out and to see how different that process is than TV, it's just, like anything else, I'm such an ambitious person and I just want to master a different medium.
We're looking forward to seeing Mindy take on the big screen and bless us with a new TV hit to be obsessed with. In the meantime, we've got old Mindy Project and The Office to keep us company.