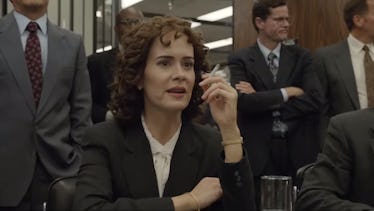 'American Crime Story' Fans May Be Waiting A Long Time For Season 3 To Premiere
FX
The true crime genre is a crowded one in the current entertainment landscape, but Ryan Murphy's American Crime Story has proven to be an addictive and riveting TV force since premiering in 2016. The show kicked off with The People v. OJ Simpson — a nail-biter of an inaugural installment despite the fact that the audience knew how it would end. The second season, The Assassination of Gianni Versace, explores the life and murders famed fashion designer's complicated killer, Andrew Cunanan. So, when does American Crime Story Season 3 premiere? Fans of the anthology series are already looking for more compelling crime stories to unfold on the small screen.
Season 3 of American Crime Story is slated focus on Hurricane Katrina, set in New Orleans. Some history to catch you up on its development: Season 2 was originally supposed to be Season 3. Allow us to explain... The Versace/Andrew Cunanan story was intended to be told for the show's third installment, but the timeline shifted when creative changes were made to the Katrina season's focal point. Audiences had to wait nearly two years in between the first and second season, so we wouldn't be surprised if Season 3 received a release date as far away as 2020.
The Katrina season of ACS will now reportedly be based on Sheri Fink's Pulitzer Prize-winning Five Days At Memorial, which chronicles New Orleans' Memorial Medical Center after the devastating hurricane. Sarah Paulson has been confirmed to star as Dr. Anna Pou, a lead staffer accused of euthanizing patients in the wake of the disaster. Paulson, who's starred on every season of Ryan Murphy's American Horror Story, unfortunately did not appear on the recent Versace iteration of American Crime Story. The mega-talented actress practically swept awards season for her mesmerizing turn as Marcia Clark in The People v. OJ Simpson. Thankfully, Sarah is also attached to the planned fourth season of ACS, which will revolve around the Bill Clinton and Monica Lewinsky scandal.
"Sarah will be in it but she won't be playing Hillary [Clinton]," Ryan Murphy revealed to E! News in 2017. "That's earmarked for talks with somebody else. We're casting that now. I can't say what Sarah is playing, but it starts shooting at the end of this year."
With the change-ups and development surrounding Katrina, people are wondering if Season 4 will eventually be bumped to Season 3. You still with us? We know, Ryan Murphy has a lot going on.
While we know Sarah's reportedly signed on for the next two installments of ACS, the rest of Season 3's cast is yet to be determined. May we suggest the great Sterling K. Brown, who picked up an Emmy for his portrayal of Chris Darden in Season 1? The guy is on some little-known network show called This Is Us at the moment (OK, it's basically the most buzzed-about series of 2018), but it sounds like he has hopes of rejoining the Murphy players. "Hopefully there's some room in there for yours truly," Sterling remarked on Watch What Happens Live back in September.
We honestly don't know how Ryan Murphy does it. The TV heavyweight is working on the eighth season of American Horror Story, the second season of Feud, and his new series, Pose, will premiere this coming summer. In between all that, he somehow had time to create and write 9-1-1, as well as the upcoming drama, Ratched. American Crime Story's scheduling fate may be unknown for Season 3 and Season 4, but we're guessing loyal viewers will be tuning in no matter what.
The season finale of The Assassination of Gianni Versace: American Crime Story airs Wednesday, March 21 at 10 p.m. ET on FX.