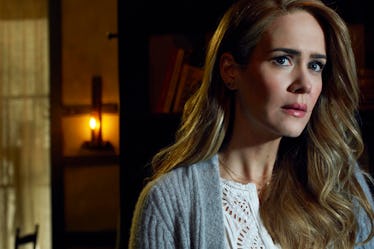 'AHS' Season 8 Finally Has A Theme & A Premiere Date, So Start Mentally Preparing
FX
It isn't truly fall unless there's a new season of American Horror Story to terrify us as we wear chunky sweaters and sip pumpkin spice lattes. We now know that Season 8 of American Horror Story will be subtitled Apocalypse, and the show's social media accounts also spilled on when we can expect haunting new episodes. It may still be hot outside, but autumn is around the corner and I need to know: When does AHS: Apocalypse premiere? The airdate is a little early for Halloween enthusiasts, but American Horror Story is coming back sooner rather than later.
The FX series confirmed that Season 8 will debut on Wednesday, Sept. 12. Along with releasing the premiere date and the season's theme, AHS social media pages also posted the first promotional art for the Apocalypse season, showing a blood-red baby interacting with a long, pure black hand in front of a matching red background. So, if you're wondering what my nightmares will consist of for the next two months, look no further than these posters.
As Entertainment Weekly points out, the poster is likely a throwback to the show's first season, Murder House, which we already knew is related to the upcoming season in crossover form alongside the third season, AHS: Coven. At the end of Season 1, Connie Britton's Vivien gave birth to the Antichrist, but Constance, played by Jessica Lange, took away the baby. EW suggests that the baby in the Apocalypse poster is the same child, possibly connecting those two previous seasons to new episodes.
The formidably named season welcomes back several of the show's recurring players, such as Sarah Paulson, Evan Peters, and Kathy Bates. The confirmed cast also includes Billie Lourd, Billy Eichner, Leslie Grossman, Adina Porter, Cheyenne Jackson, and Joan Collins. As creator Ryan Murphy previously told EW, the intense season calls for the return of many past characters. Murphy said:
It's a season unlike anything we've done because there's a big hook to it... You will see so many fan favorites return that you'll feel like it's The Love Boat. It's a very high concept.
American Horror Story fans on Reddit also pointed out the poster's similarities to Murder House, and one fan even mentioned that, although the series is renewed for a ninth season, the throwback element of the poster definitely gives off vibes of a final, reflective season.
Eagle-eyed viewers have also focused on the hand in one of the posters appearing to have a drop of blood on its thumbnail. They've also pointed out the odd reflection on the baby's forehead and its resemblance to the shape of a T. User AtoneForYourLies wrote:
I'm thinking [the reflection is] intentional, it's an odd shaped reflection. If the baby in the poster is the antichrist then 'T' is his father's first initial.
In April 2018, Murphy also revealed at a For Your Consideration Emmys event that Peters will play a "comedic hair stylist" in Apocalypse, while new addition Collins will portray his grandmother. According to Deadline, he also hinted that Season 8 will take place "18 months from today," so Murphy must have fairly bleak views of the world's future status if his new work promises an apocalypse. He also revealed that Season 8 will return to the more fantastical vibebs of American Horror Story, saying:
It's heightened. It's not necessarily as real and grounded as the past season. We're sort of getting back to Asylum and Coven. That's the tone of it.
With the season's promotional art now out in the open, we can keep our eyes peeled for a slew of hints about AHS: Apocalypse as the dog days of summer approach. Season 8 of American Horror Story premieres on Wednesday, Sept. 12, on FX.