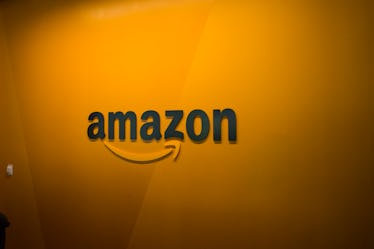 Black Friday Deals On Amazon Have Already Started, So You'd Better Get Shopping
David Ryder/Getty Images News/Getty Images
For Americans, Thanksgiving is still ten days away, but that hasn't stopped many shoppers from looking ahead on their calendars and queueing up their online shopping carts in anticipation. For eager shoppers wondering when Black Friday sales start on Amazon, good news: it looks like they've already begun. Early Black Friday deals are already available on the website, so time to get shopping.
The Black Friday shop on Amazon is already bursting at the seams with price drops on items in multiple departments, from clothing to electronics to housewares for the early deals. Some deals are already available, but it's likely that shoppers will see more when the company rolls out the big guns for the main event on Nov. 23.
It's not clear what time the official Black Friday sale begins in 2018, but last year, Cosmopolitan points out, the online retail giant launched its annual sale on the Wednesday before Thanksgiving — a full day before many retailers open the shopping floodgates — so keep your eyes out around Nov. 20 and 21 to get yourself prepped for when it goes live.
Per Fortune, this year's post-Turkey Day rollout comes with some sweet features. The new Black Friday Store, launched on Nov. 1, includes gift guides to help shoppers narrow in on what they're looking for, and subscribers can also use Alexa as a personal shopping assistant. For those looking ahead to celebrate the Dec. 25th holiday, shoppers can also order Christmas trees on the website during the Black Friday sales, with trees over $25 qualifying for free shipping.
According to BlackFriday.com, the online marketplace will offer free shipping with no minimum purchase amount starting on Nov. 5 — so even if you don't have Prime, you can still take advantage of the saved costs.
While Black Friday is a huge day for department stores for everything from appliances to toys, the online guide to the holiday shopping season BlackFriday.com recommends Cyber Monday sales for things like tech and clothing. Fortunately, though, Amazon has departments for just about everything you could possibly want under one virtual roof.
Cosmo warns that some deals on Amazon will sell out in minutes, so if you're waiting till the official sale starts to click "buy now," you'd better get check your wi-fi connection and get your Pumpkin Spice Latte ready ahead of time.
The Black Friday shopping season has now crept earlier and earlier into the fall calendar, running from roughly the start of November on through the end of the year. CBS reports that the pre-Thanksgiving retail occasion is now booming, and has given the post-sales a run for their money. This year the shopping holiday is expected to increase 6 percent to more than $1 trillion, and online shopping is projected to account for about a tenth of that, at $123.7 billion.
Last year, according to TechCrunch, online sales on Black Friday alone racked up over $5 billion, and the shopping season overall surpassed the record, clearing $108 billion. Amazon's Black Friday sales alone were so high in 2017 that they launched CEO Jeff Bezos' net worth to over the $100 billion mark.
Cyber Monday 2017, moreover, had more online sales revenue than did Black Friday, analysis from Adobe shows — so you might be headed for steeper competition if you wait until the week after Thanksgiving to start your online shopping. But if your list includes items from Amazon, luckily, you don't have to wait until the turkey's in the oven to get cracking on your virtual purchasing.