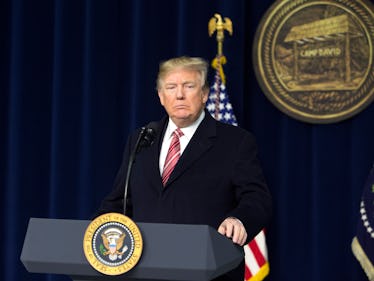 Yes, Donald Trump's Dishonest & Corrupt Media Awards Are Definitely Still A Thing
Pool/Getty Images News/Getty Images
On Sunday, Jan. 7, President Donald Trump laid to rest confusion over when the Dishonest & Corrupt Media Awards will be held. The awards show has been pushed back to Wednesday, Jan. 17, per the president's tweet. And the world can't wait to see who the winners are.
"The Fake News Awards, those going to the most corrupt & biased of the Mainstream Media, will be presented to the losers on Wednesday, January 17th, rather than this coming Monday," the president tweeted. "The interest in, and importance of, these awards is far greater than anyone could have anticipated!"
The "awards" show started as an idea tweeted by the president to mock the mainstream media outlets that have been the most instrumental in promoting information he believes is false. "Subjects will cover Dishonesty & Bad Reporting in various categories from the Fake News Media. Stay tuned!" the president's tweet from Jan. 2 read. While some people at first regarded the tweet as just another incendiary and short-lived spark from the president's overactive Twitter finger, White House Press Secretary Sarah Huckabee Sanders on Wednesday, Jan. 3. confirmed that it wasn't just talk: there would be an actual awards ceremony. (Though, ironically, Sanders cast doubt on whether members of the press themselves would actually be invited.)
That the president is actually following through on holding an awards ceremony to demonize the media is the latest escalation in Trump's crusade against "Fake News" and the institution of journalism in general.
Trump's beef with "Fake News" has been going strong for a while now.
Ah yes, the mainstream media, purveyors of "Fake News." The president has turned respectable cornerstones of journalism into his personal enemies; sentinels and guardians are now his Boogeyman. In his repeated and increasing attacks against media outlets such as The New York Times and CNN, and praise of Fox News, Trump has made it clear which outlets he stands behind. In fact, an Axios report shows Trump attacks news outlets more than any other of his Twitter targets.
The mounting attacks reached a boiling point just after Thanksgiving when Trump mentioned a contest for media he felt was untruthful, which appears to be the seed of the awards show we now await. "We should have a contest as to which of the Networks, plus CNN and not including Fox, is the most dishonest, corrupt and/or distorted in its political coverage of your favorite President (me). They are all bad. Winner to receive the FAKE NEWS TROPHY!"
And while you'd think, after this continued onslaught by the president to discredit the media, those at its helm would be riled up over his latest push against them. But the shoe appears to be on the other foot.
Celebrities aren't having it.
Comedy news shows hosts have been trolling Trump for the last several days after his awards announcement. Big names like Samantha Bee, Jimmy Kimmel, Stephen Colbert, and Trevor Noah have all been vying for the president's attention with parody "For your consideration" ads promoting themselves as nominees. Noah took out a full-page ad on page A7 of the Friday New York Times, while Colbert rented out billboard space in Times Square, each touting their fake accolades as "dishonest" media stars. Even model Chrissy Teigen offered to host it.
Chef José Andés came to the rescue to support those in the media, writing on Twitter, "To all the winners for Mondays's Dishonest and Corrupt Media Awards of @realdonaldtrump I want to contribute with lunch on me in any of my restaurants as a reward."
And CNN's Jake Tapper may now join the others in the running. A fiery exchange between him and Trump's senior policy adviser Stephen Miller took a turn for the worst on Sunday night during an interview about the controversial new book Fire and Fury: Inside the Trump White House by Michael Wolff.
Former Director of Speechwriting for President Obama Jon Favreau thought Tapper would made a great nominee for the upcoming "Fakies," as they've now been nicknamed.
But like the rest of the country, we'll have to wait until next Wednesday to know who the winners are.
Instead of hosting the awards on the originally scheduled date and time, The Hill reports that Trump is planning to travel to Georgia and Tennessee on Monday, Jan. 8, and SB Nation reports he's likely attending the college football championship playoff game in Atlanta. So, on the bright side, those who are disappointed that tonight's ceremony got postponed can take solace in the fact that at least the president will be busy cheering on student athletes, rather than, say, spend his night in bed eating McDonald's.