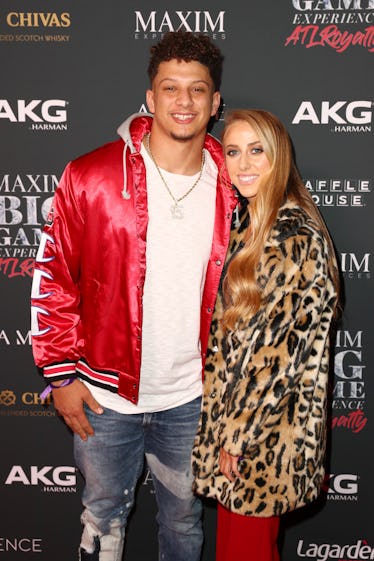 Yay, Patrick Mahomes & Brittany Matthews Set A Wedding Date & Location
Joe Scarnici/Getty Images Entertainment/Getty Images
Are you, like me, jonesing to know when the heck Patrick Mahomes and Brittany Matthews are getting married? I come bearing great news. Matthews gave a pretty major update on her March 2 Instagram post. Alongside a few pictures of herself and Mahomes, she wrote:
It's wedding planning time👰🏼‍♀️We have a date & place wahoooooo🥂 #2022
While we don't know exactly when or where they'll tie the knot, it sounds like they're already planning their nuptials and have a date set for 2022. I guess I'll just sit back and wait for the wedding pictures to start pouring in.
In an iconic move, Mahomes proposed to Matthews just moments after receiving his Super Bowl ring back in 2020. Matthews shared the joyous news with her Instagram followers on Sept. 2, 2020 by posting a series of pictures from the proposal alongside this super sweet caption:
9.1.2020❤️On a day that was meant to celebrate you, you turned it into celebrating us. It's always us, it's always you and me. The words you looked into my eyes and said to me at this moment, will NEVER leave my mind! You made this day perfect, you took my entire breath away and I could not have imagined anything better. I love you, forever and always! Cheers to spending our lifetime together and an inseparable bond🎉🥂💕
And Mahomes shared the news to his Instagram Story with maybe the best caption of all time:
On Sept. 29, 2020, Mahomes took to Instagram to announce that he and Matthews are expecting their first child together by sharing a picture of them holding a sonogram. In an Instagram announcement of her own, Matthews wrote alongside some more shots of her and Mahomes holding up a sonogram:
Mom & Dad, taking a small detour to the wedding❤️
On Feb. 21, the high school sweethearts announced that their child — baby girl Sterling — had made her way into the world.
And now it looks like it's officially wedding planning time!