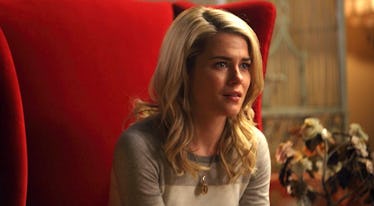 A New Song Dropped In The Middle Of This 'Jessica Jones' Episode & It's So, So Emotional
Netflix
There are not that many sweet and precious moments in a show like Jessica Jones, but the new season does include one. In the fifth episode of Season 2, Jessica's bestie Trish Walker gets surprised by a wedding proposal, and it is one of the only truly romantic scenes that fans have seen in the superhero noir drama. One of the main reasons that the proposal was so beautiful and tender was the song that was playing. You might be wondering what the song playing during Trish's proposal on Jessica Jones was, and you would not be alone in wondering that because the dreamy, acoustic song was newly released on the same day as this season of Jessica Jones dropped. Find out all about that romantic new song that set the scene for Trish's proposal below.
Throughout the newly released second season of Jessica Jones, Trish Walker has begun a new relationship with a respected journalist named Griffin Sinclair. Trish and Griffin have clearly bonded over their shared passion for journalism, and as an added bonus, he appears to be actually understanding and supportive of her dangerous friendship with Jessica, and Jessica actually approves of him. After watching Trish and Griffin dating for the first few episodes, he finally surprises her with a wedding proposal. He got Trish's mom to trick her into coming to a beautifully-decorated rooftop full of all her family and friends and popped the question. The romantic setting was completed by actual singer-songwriter Paul Freeman, who sang his new song "Closer Still."
Paul Freeman is a Welsh singer-songwriter who has been releasing acoustic folk-pop songs since his first EP You and I came out in 2008. "Closer Still" is his latest release, and it is clearly the perfect romantic song to score any proposal. Freeman released "Closer Still" on the same day that Jessica Jones Season 2 premiered on Netflix, on Thursday, March 8. Freeman himself actually appears on screen during Trish's proposal scene to perform his new song.
"Closer Still" may have been the perfect romantic song to make Griffin's proposal to Trish so perfect, but there is still something about their relationship that seems a bit off. Trish's reaction to Griffin's proposal was not exactly the most reassuring thing... when he asked her to marry him, her response was a stuttered "thank you" instead of an actual yes, and she was clearly focused on more pressing matters with the investigation of IGH and the mysterious history of Jessica Jones' powers still as confusing as ever. Griffin seemed too good to be true for these first few episodes, and in a show like Jessica Jones, that is not always a good sign.
The real alarming moment about Griffin came the episode prior to his proposal, when we saw him answering a mysterious phone call after some pillow talk with Trish. We don't know who was on the other end of that phone call, but it was definitely shady-sounding when Griffin told the mystery caller that Trish was still in the dark about something. Now, the optimist in me is hoping that Griffin was maybe talking to Trish's mom about the proposal he was planning, and assuring her that Trish still didn't know about the big surprise. But, of course, there is also the possibility that Griffin is involved in some shady business that Trish and Jessica Jones are not fully aware of. With the mystery of IGH still looking large over everyone, nobody is free of suspicion.
But back to more positive things: you can download Paul Freeman's new song "Closer Still" on his website now.