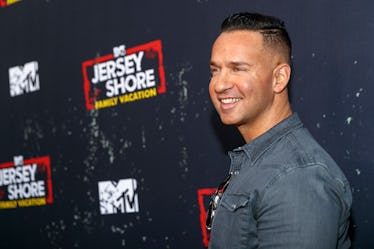 Mike Sorrentino's Net Worth Is A "Situation" That Will Make 'Jersey Shore' Fans Gasp
Rich Polk/Getty Images Entertainment/Getty Images
When Jersey Shore first premiered, fans were shocked that someone like Mike "The Situation" Sorrentino really existed. During the show's six seasons, Mike started drama with every roommate in the house, bashed his head into a wall and had to wear a neck brace, basically bullied Angelina Pivarnick (the OG Deena) out, and much, much more. I know that MTV rewarded Mike pretty handsomely for being the house's resident sh*t starter, but I'm curious, what's The Situation's net worth? Hold on to your T-shirts, Jersey Shore fans, because Mike's net worth is a "situation" that will make you gasp.
According to Celebrity Net Worth, The Situation currently sits around $300,000. Can I get a yeaaaah buddy? The majority of Mike's net worth comes from his Jersey Shore salary, which increased as he became more reckless on the show. By the show's sixth and final season, Mike was collecting a whopping $150,000 per episode. Only the show's top three stars — The Situation, Nicole "Snooki" Polizzi, and "DJ Pauly D" DelVecchio — earned this ridiculous per-episode sum (their co-stars received less money, with salaries ranging from $100,000 to $40,000 per episode), so it's clear that MTV felt strongly about Mike's money-making abilities.
Mike's Jersey Shore salary doesn't stop here. On top of the $150,000 he made for each episode in Season 6, he also made a reported $400,000 in signing bonuses, $200,000 in end-of-season bonuses, and $150,000 for appearing in a reunion episode. That comes out to about $2.55 million, just for Season 6. And Season 6 wasn't even the show's most popular season! If he made $2.55 million in just one season, imagine how much The Situation made over the course of Jersey Shore's six-year run. TBH, I can't even imagine it — that number must be ridiculously high.
The other large chunk of Mike's net worth comes from the many appearances, endorsements, and side gigs he's participated in since he first made it big on Jersey Shore. In 2010 alone, Mike earned about $5 million off endorsements for companies like Devotion Vodka (a protein infused liquor, because duh), Reebok, Vitamin Water, and his own clothing line Dilligaf. That same year, he released an autobiography titled Here's The Situation: A Guide to Creeping on Chicks, Avoiding Grenades, and Getting in Your GTL on the Jersey Shore, which The Hollywood Reporter says earned him a six-figure advance.
As if endorsements and a book deal weren't enough, The Situation has capitalized on his chiseled abs (he's at least kept up the "G" of G-T-L) with some fitness-focused ventures. "The Situation Workout," an ab-centric fitness video, teaches fans how to get his hot bod, and he produced a vitamin line with GNC to help get a chewable supplement to the masses. And, of course, he's trademarked "The Situation," so any time someone uses his likeness or his name on a product, he gets a hefty chunk of change.
So, how is Mike spending all his hard-earned cash? If you've been watching Jersey Shore Family Vacation, you know that The Situation has calmed down quite a bit: He's been sober for over two years, and he's finally in a stable relationship with longtime girlfriend Lauren Pesce. The couple lives a pretty low-key life (gone are Mike's days of partying 24/7) in New Jersey, so if I had to guess, I'd say that Mike is spending his Jersey Shore cash on his college sweetheart.
Maybe soon he'll make the ultimate splurge — an engagement ring for Lauren. In July 2017, he told InTouch that he's definitely thinking about proposing:
Me and my lady are moving in the next step of our personal life and are moving towards getting engaged. I'm trying to keep it somewhat of a surprise to her because she's around me all the time, but she understands the situation we're in.
While we don't know when Mike will pop the question, one thing is certain: that's going to be one hell of a wedding.