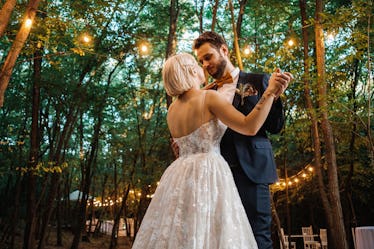 10 Brides Reveal The Overall Cost Of Their Wedding & It's Eye-Opening
When my best friend got engaged a year and a half ago, she joked, "I'm already drowning in debt from my education — what's another few thousand, right?" We laughed, cried, and shared a moment of silence to let the reality of that statement sink in. Since then, I've learned that the amount of money spent on a wedding is not proportionate to how enjoyable, beautiful, or memorable it is. But what's the overall cost of a wedding? As it turns out, it varies, like, a lot.
According to The Knot's 2018 Real Weddings Study, the average cost of a wedding in 2018 was $33,931 and it's worth noting that doesn't include the honeymoon. Before you start panicking, however, consider this: The Knot reports that the average cost varies vastly depending on the location, unsurprisingly, it's far more expensive to tie the knot in a big city like New York or Chicago than it is in a smaller, rural locale. The most expensive factors, according to The Knot's study, were the reception venue ($15,439), ceremony venue ($2,382), engagement ring ($5,680), and photographer ($2,679). And clearly, there are ways to cut back in all of those categories, for example, by having a friend take the photos, or having the reception in your parents' backyard. Not to mention, the average couple hosts 136 guests, spending $258 per guest, and the cost of a wedding will obviously be lower if you keep the invite list tight.
Need proof that you can plan a baller wedding on literally any budget? Read on to find out what a handful of brides spent on theirs, as well as some deets on how they pulled it off.