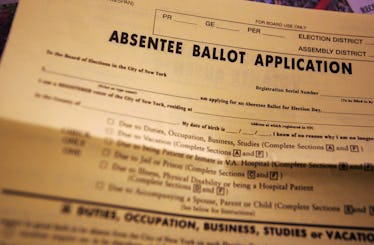 Here's The Deadline To Mail In An Absentee Ballot In The 2018 Midterms, Just So You Know
Chris Hondros/Getty Images News/Getty Images
The 2018 midterm elections will be here before we know it, and it's the perfect opportunity for Americans to take advantage of their rights and let their voices be heard. For those registered out of state and asking what's the deadline to mail in an absentee ballot? Here's what you should know, because don't let that be an excuse not to vote.
According to Vote.org, the deadline to mail in an absentee ballot varies by state. However, all states require the absentee ballot to be received by election night, usually around 5 p.m. to 8 p.m. local time. Easy enough, right? It is, so you truly don't have any excuse not to get out and send that ballot out with plenty of time. By the way, the midterm elections are on Tuesday, Nov. 6.
Sending the absentee ballot might be easy enough, but it's that tiresome application process that can prove to be a tedious task to finish. According to Vote.org, the application due date also varies state-by-state, some requiring it days before election night, while others don't need as much lead time. For those living in Alaska, the state requires absentee voters to send their application in 10 days before election night, while Kansas, Kentucky, Maryland, Nevada, and other states' residents must have the application completed the Tuesday before Election Day. For those who aren't familiar with their states guidelines, Vote.org has a full list of each state's voting deadlines and requirements for absentee voters.
The recent political climate has truly made Americans appreciate voting so much more than in the past. It's hard to imagine that there used to be a time where it was illegal for groups such as women and people of color to vote in elections, but it's true.
Therefore, it's more important now than ever before to stand up and take advantage of your American right to vote. Sunday, Aug. 26 marked Women's Equality Day, which celebrates the adoption of the 19th Amendment, which granted women the right to vote in 1920. To celebrate this day, Elite Daily spoke with eight women about the importance of voting, and how as women, we need to take advantage of this right we didn't always have. For Kate, 30, voting is one of the only ways to ensure that the United States has intelligent and reliable leaders that truly have our best interests at heart. She said,
There are so many times where as a queer woman of color, it can feel like I'm shouting at the wind. Especially in today's political climate, reading the news, seeing the hate and determination some people have for dividing us, restricting human rights, my fear and anxiety can feel paralyzing. But the one thing we can do is vote. I can't stress enough how important it is that we all go and vote - as we saw in 2016, it DOES matter. We can take action and be heard by who we choose to represent us. Politicians are supposed to be civil servants, and I support those who are truly for the people, not their wallets.
So for those who haven't been counting down the days until Nov. 6, make sure to mark your calendars for important deadlines and use your favorite pen to fill out those ballots.
I'll see the rest of you at the polls.