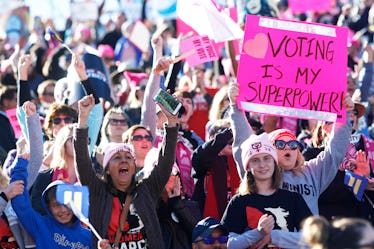 On Women's Equality Day, Why These 8 Women Are Celebrating Their Right To Vote
Sam Morris/Getty Images News/Getty Images
Imagine this: nearly 100 years ago, women weren't allowed to vote, much less be involved in politics. Over the years, women have certainly gained more rights and footing in regards to earning a place in the political sphere, but there's still a lot of work to be done. Sunday, Aug. 26 marks Women's Equality Day, which celebrates the adoption of the 19th Amendment, which granted women the right to vote in 1920. Since then, ladies have been standing up and speaking out on behalf of their rights, on election day and every day. In honor of Women's Equality Day, these women shared what the right to vote means to them. Girl power, baby.
In 1848, activists including Susan B. Anthony, Lucretia Mott, and Elizabeth Cady Stanton launched the women's suffrage movement to fight for women's rights and demand the right to vote, organizing protests and demonstrations to bring public awareness to their mission. After a lengthy battle, Congress voted in June 1919 to approve the Susan Anthony Amendment, which would give women the right to vote. The amendment went to the states to approve, and on Aug. 18, 1920, Tennessee became the 36th state to ratify the amendment, tipping it over the two-thirds threshold required to be adopted. Finally, on Aug. 26, 1920, the 19th Amendment was certified by U.S. Secretary of State Bainbridge Colby, and women were finally granted the right to vote.
Clearly this was a historic moment in women's rights, and history in general. However, it's important to remember that not all women were granted the same rights at the same time. Equal rights are still a struggle for women of color, members of the LGBTQ community, lower-income families, and non-binary women. That's why Women's Equality Day is still so important. In honor of this day, eight women told Elite Daily what their right to vote means to them, and it'll get you fired up all over again.
Some responses have been lightly edited for length and clarity.