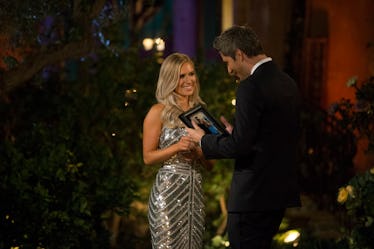 Here's Everything We Know About What Lauren B. Is Up To After 'The Bachelor' Ended
Season 22 of The Bachelor is approaching its end, and only Lauren B. and Becca K. (as they will be called on their gravestones one day) remain. The life of a Bachelor finalist seems to be fairly difficult when the season is actually airing - America knows you're one of the last two women, but you're committed to silence until that fatal proposal airs on finale night. Meanwhile, if you're also engaged to the Bachelor, you have to survive secret weekends hiding away with your new fiancé. That being said, what's Lauren B. doing after The Bachelor?
Described by the show as a tech salesperson, the Virginia Beach local was living in Dallas before filming The Bachelor. According to her LinkedIn page, Lauren has been in a sales executive position at Vonage Business for just about a year after having worked as a marketing specialist in Virginia Beach. Her LinkedIn profile is practically your greatest chance at discovering what she's been up to since the show wrapped, as Lauren hasn't shared too much about her current life on social media.
On her Instagram, Lauren has posted very little non-Bachelor content since the season began airing in January. When she's not posting behind-the-scenes pics of her TV dates with Arie, Lauren has spent the time writing this ode to her dog. Well...okay.
In slightly more interesting news, Lauren also reunited with fellow Virginia native and Bachelor alum Jacqueline for a very wintry-looking photo shoot. Jacqueline came across as one of the most intriguing contestants to me, while Lauren is currently beating Lauren B. the First as the dullest blonde in the history of the show. The fact that these two are apparently friends just surprises me.
In true Lauren B. fashion, her own photos detailing the hangout were captioned sparingly, while Jacqueline's posts about it shared some insight into Lauren's personality.
Missed this one (and getting called "Jackalacky") at Women Tell All, but I got to see her in Virginia anyway! This one time in Tahoe, @jennacooperfit and I hid in her bathroom with this creepy red light on and tried to scare her. We were in there for like thirty minutes before we started scratching the wall and throwing tampons at the door, trying to get her attention. Didn't work.
So, in conclusion, Lauren likes using nicknames and she has bad hearing.
While she's not one to constantly inform followers where she is, Lauren did post a photo of herself on the beach nearly two weeks ago. Writing, "It's good to be home," she was obviously in Virginia Beach, and it's quite possible she could be staying there until she goes to L.A. next week for the live "After the Final Rose" special with Arie and Becca. As seen with The Bachelorette last year, third-place contestant Eric Bigger also attended the live finale segment, so perhaps Kendall, whose elimination wasn't shown before "Women Tell All," will be there too.
Lauren is even more inactive on her Twitter account, mostly just retweeting messages about her awkward moments on the show. I'll take that as a good sign - perhaps she gets that she came across so blandly on TV?
The most recent tweet on her page is a retweet from Good Morning America praising Lauren's eyelashes. It looks like, no matter what happens on The Bachelor, Lauren may have some mascara sponsorship deals in her future.
In a similar move, Becca's Instagram has also mainly focused on Bachelor photos the past few weeks, but she has shared far more pictures of herself with the other women and producers than with Arie. Both she and Lauren seem to have maintained relatively low-key social media presences, especially as it became clear to audiences that they were the final two women.
After this sleuthing, it's obvious that we won't know what Lauren's post-Bachelor life has been like until the finale. The truth will be shared when Part 1 of the finale airs on Monday, March 5 at 8:00 p.m. ET on ABC.