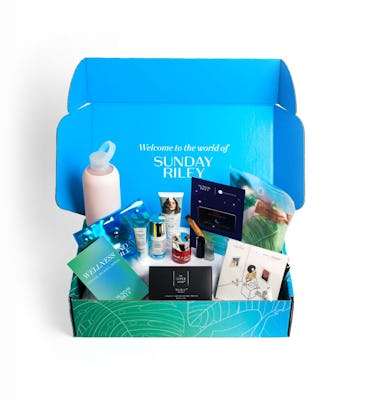 Sunday Riley's New Subscription Box Means $300 Worth Of Skincare Gold For Much Less
Courtesy of Sunday Riley
If I'm being totally honest, I don't currently subscribe to any beauty subscription boxes. I'm yet to find one that sets my soul on fire — at most, I experience a spark or a flicker — but after I found out what's in Sunday Riley's subscription box, my heart has been set ablaze. I've tried some boxes that have a few good products, but for the most part, you always get one or two throwaway items in there that you'll never use. I've always figured if I'm going to spend my hard-earned cash on products, I might as well pick them myself and just pay for each one individally, without a monthly bill. But Sunday Riley's subscription box is on a whole other playing field — it's packed with all the cool-girl beauty products you need to make your Instagram look fire. Literally every single item in there is one I'd buy for myself.
If you're on a mission for amazing skin (who isn't?) this box takes an inside-out approach to achieving a serious glow. Sure, you'll find some seriously luxe skincare inside, but you can also expect to treat yourself to some mind and body wellness treats too, because honestly, they all contribute to gorgeous skin.
The Sunday Riley subscription box is divided into five segments: beauty, personal health, supplements, meditation, and energy. Basically, think the ultimate motivation for implementing next-level self care into your daily routine. Here's exactly what you'll find in the pretty package.
Sunday Riley Skincare Staples (Obvi!)
The first box is loaded with arguably two of the best Sunday Riley products. You'll find their best-selling Good Genes lactic acid treatment. I swear this stuff makes me look glowy and so rested after sleeping in it once. Another og my personal favorites is the Ceramic Slip Clay Cleanser. The box comes complete with the new formulation of the cleanser, which is so gentle, the brand says it can even be used on babies. It's not packed with rice and olive oil esters to moisturize and 4 times more clay to detox even more without drying.
BKR Water Bottle
You can't have great skin when you don't drink water, and this on-the-go bottle is so cute, it'll motivate you to hydrate, even on your busiest days.
WelleCo The Super Elixir 7-day Supply
Add two teaspoons of this super-greens powder (spirulina, kelp, and broccoli) to water or smoothies every day to optimize your daily energy levels and improve the overall gut health and appearance of your skin.
Clear Your Space, Clear Your Mind Kit
Honestly, the road to clear skin should always include a clear mind. This kit comes with a stick of Palo Santo and 2 Crystal Tower Points (Obsidian and Rainbow Flourite). What else could you ask for?
Headspace App One-Free Month Subscription
And speaking of a clear mind, a one-month subscription to the Headspace app will get you well on your way to becoming a meditation guru.
Kitsch Cleanse Ritual Collection Microfiber Hair Towel
But lets be real, what we put on our head is almost as important as what we put in our head, right? This palm-print microfiber towel dries your hair so fast and it looks cute AF.
IGK Rich Kid Coconut Oil Air Dry Styler
I'm obsessed with this coconut oil hair cream. When I don't have time to heat style my wet hair (which if I'm being real, is every day), I rub a dallop of this through my hair after the shower and let it air dry. I get frizz-free hair and a beachy wave every time.
Smith & Cult Nailed Lacquer in Kundalini Hustle
The perfect shade of red nail polish...found!
THINX Hiphugger
These aren't just any pair of underwear. For your heavy flow days, these hiphuggers hold up to two tampons worth and keep plastic applicators out of landfills.
The limited-edition Sunday Riley subscription box is currently on pre-order for $95. But the best part is it's packed with $300 worth of products so you're actually saving a whole lot of cash. The box will be available on October 1 on the brand's website.