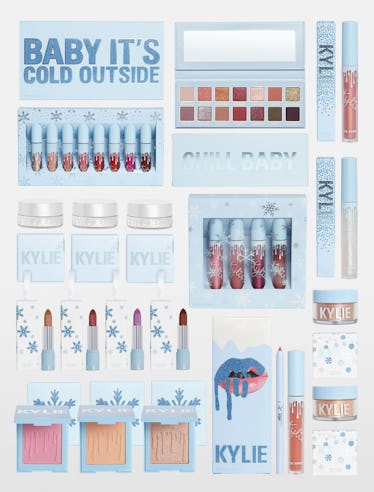 Here's Every Single Thing You Can Buy In Kylie Cosmetics' HUGE Holiday Collection
Courtesy of Kylie Cosmetics
Kylie Jenner is no stranger to launching new Kylie Cosmetics collections for major events like holidays and birthdays. The latest launch? The Kylie Cosmetics' Holiday Collection, which first became available on November 19 and has landed itself at the top of every beauty-lover's holiday wish list, is not to be missed — trust me.
So whether you're a Kylie Cosmetics-obsessee who is hoping that Santa leaves the collection under the tree this Christmas, or if you're gifting any or all of the products to yourself (which, honestly, #same), you probably want to know exactly what the collection boasts. Well, brace yourselves, because the new launch contains an overwhelming amount of chic and well-packaged products that'll absolutely give you all of the cozy, wintry vibes.
First up, it looks like the youngest Jenner sister is taking it back to her Kylie Lip Kit roots by releasing a ton of new lip products in the Holiday Collection. There's an eight-piece collection of mini metallic, velvet, and matte liquid lippies called "Baby It's Cold Outside." Each shade in the set of minis is brand new and of course, has a name that references the winter season. There's a wide range of shades including "Snowball" (a pale pink metallic), "Naughty is the New Nice" (a metallic rosy red), and "Hot Cocoa" (a deep plum red matte).
In addition to the launch of the set of eight new minis, the Holiday Collection also features a set of four new full-size liquid lippies: two metallics: "Dream On Metal" (a pink metallic liquid with gold glitter) and "Sleigh My Name Metal" (a berry with blue glitter). As well as two mattes: "Snow Way Bae Matte" (a mid-tone pink) and "Better Not Pout Matte" (a pinky berry).
If those 12 liquid lippies aren't enough, the collection also features four new metallic lipstick bullets, two new glosses, and one new lip kit. The four new bullets contain a range of sparkly velvet shades, including "Brrr" (a warm copper with red glitter), "Cold As Ice" (a metallic lavender with pink flip), "Snow Cute" (a champagne metallic with pink glitter), and "Stay Cozy" (a warm pink metallic with bronzy gold flip). Then, there's the "Kissmas" lip kit, which contains a a matte neutral peach with a pencil lip liner. And finally, the two glosses included in the Holiday Collection are "Milk and Cookies" (a pink metallic gloss with a gold flip) and "Snow Sparkle" (an iridescent gloss with pink and blue glitters).
As far as the rest of the collection is concerned, there's the 14-pan Chill Baby Eyeshadow Palette that contains a range of warm matte and metallic shades, as well as three new creme eyeshadows. The three new creme shades include "Northern Lights" (a pink with gold glitter), "Snowflake" (a pearly white with gold glitter), and "Slay Bells" (a bright gold). With such a wide range of eyeshadow shades in the collection, you can easily create an everyday wintry look or a dramatic eye perfect for that holiday party.
Finally, if you're looking for the perfect stocking stuffers that'll be sure to add a little glow to someone's holiday season, there's three new individual highlighters, a blush, and a perfecting powder. The new highlighters include "Snow Angel" (a warm shimmering pink pressed powder), "Merry Pink" (an icy pinky rose loose powder), and "Let It Glow" (a bright peachy gold with silver shimmer loose powder).
If your bank account isn't yet equipped to cop the Holiday Collection but you're still in need of your Kylie Cosmetics fix, hurry over to KylieCosmetics.com today as the site is having their Cyber Monday sale where they're offering 30 percent off of almost all products except for the Holiday Collection and the new KKW X Kylie Lip Collection.