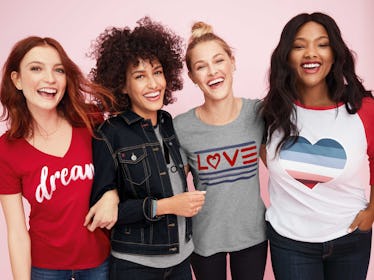 Ellen DeGeneres' New Clothing Line Is Adorable AF & Everything Is Under $30
Courtesy of Walmart
Ellen DeGeneres is so much more than a talkshow host. She embodies love and kindness and I just want to be her best friend. In lieu of knowing her IRL, though, I'll support her from afar. Here's what's in Ellen DeGeneres x Walmart EV1 clothing line because obviously I want it all.
Walmart and DeGeneres have teamed up in the past for the Ellen show, with the superstore making significant donations towards some of Ellen's viewers in need of a helping hand. The duo are back at it with an inspiring new clothing line called EV1, which stands for "everyone." Degeneres said in a press release about the brand, "Adorableness. Is that a word? The biggest inspiration was actually inclusiveness. That's definitely a word. EV1 promotes kindness and love and diversity. We wanted it to appeal and be available to as many people as possible. Plus, it really is adorable."
EV1 is available starting Sept. 10 at Walmart stores and online and the best part of it all is that everything is $30 or less. My jaw dropped when I heard that, too. Most of the clothing goes up to a size 20 or XXXL, making true on its name that it's for everyone. Check out some of DeGeneres' favorites from the launch below.
EV1 Women's Did Baseball Tee, $12, Walmart | EV1 Women's Free Baseball Tee, $12, Walmart | EV1 Women's Everyone Baseball Tee, $12, Walmart | EV1 Women's Ombre Heart Baseball Tee, $12, Walmart
Much of the collection features messages of love and strength, meant to inspire the wearer and others of the power of such positive thoughts. DeGeneres spoke with Walmart's Head of E-Commerce Fashion, Denise Incandela, about this idea:
The whole collection is rooted in love and spreading love, and I think that's such an important message. So whether [the clothing] actually says 'love' or there's a heart, it's just a way to remind people that love is love and love is powerful.
Hooray for love!
EV1 Women's Cupsole Lace Up Trainer, $30, Walmart | EV1 Women's Sweater, $24, Walmart | EV1 Women's Preston High Rise Skinny Jean, $24, Walmart | EV1 Women's Stripe and Dot Crew Socks, 3 Pairs, $10, Walmart | EV1 Canvas "Heart" Market Tote, $9, Walmart
"EV1 is a brand for everyone. Plain and simple. There's a price point for everyone and there's a style for everyone and I think EV1 one is gonna like it," elaborated DeGeneres. With everything from jeans, activewear, shoes, accessories, you'd be hard-pressed not to find something you like.
EV1 Women's Love Denim Jacket, $28, Walmart
This jean jacket is just in time for that crisp fall weather, add it to any outfit, I bet you'll "Love" it.
EV1 Women's Alex Relaxed Vintage Fit Jean, $24, Walmart
"I love the Alex vintage jeans because they're comfortable and relaxed and go well with anything, like a fine wine or a good loaf of bread," says DeGeneres. Give me these jeans, wine, and a some bread and I'll be all set.
Watch DeGeneres gush about the new brand and then get to shopping – browse the full EV1 collection at Walmart today!