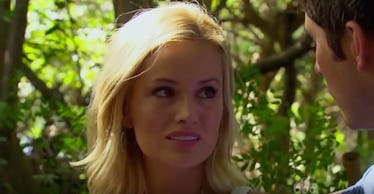 Emily Maynard's Come A Long Way Since 'The Bachelorette,' Here's What She's Up To
ABC/YouTube
It seems like just yesterday #BachelorNation watched Emily Maynard choose Jef Holm in the 2012 finale of The Bachelorette Season 8, saying goodbye to runner-up Arie Luyendyk, Jr. and breaking his race car-driving heart. Cut to 2017 and Arie is about to make his debut as the next Bachelor. But what's Emily Maynard doing now? The Bachelor alum is happily married and just had her fourth — yes, fourth — baby. What a difference five years makes.
Emily Maynard kicked off her reality TV career when she won over America and Bachelor Brad Womack in Season 15 of The Bachelor. Although Brad and Emily eventually broke it off, she got a second chance at romance when she landed the coveted Bachelorette leading lady role for the show's eighth season. Arie and Jef Holm were the last men standing on her season, but she gave Jef her final rose and the rest is history. Well, Jef and her are literally history, because they called it quits later that year. After those public breakups, Emily fortunately found everlasting love with her now-husband Tyler Johnson. Tyler and Emily actually met at church in Charlotte, North Carolina and were married in 2014. The pair also just recently expanded their family.
You may remember that Emily was already a mother to daughter Ricki, who is now 12-years-old, prior to The Bachelor. Emily was engaged to Ricki's father, Ricky Hendrick, before he was tragically killed in a plane crash in 2004. She went on to have three children with her hubby Tyler Johnson so far. Emily recently giving birth to their son Gatlin in November of 2017 and the couple are also parents to 2-year-old Jennings Tyler and 1-year-old Gibson Kyle. "I've been pregnant for two years straight," she told PEOPLE last month. "My body is just hormones that are out of control!"
In addition to motherhood, Emily blogs on EmilyMaynard.com, filling fans in on all things lifestyle, fashion, beauty, and beyond. She also wrote a book about her experiences that was released in 2016, titled "I Said Yes: My Story of Heartbreak, Redemption, and True Love."
Emily chimed in on Arie Luyendyk Jr.'s upcoming Bachelor gig after the big ABC announcement, and of course, the sweet fan fave has nothing but kind words for her former flame and make-out partner. She told Us Weekly,
I can't think of a better person to be The Bachelor than Arie and I've been hoping this day would come since Season 8 ended! He's a gentleman through and through and all the girls on his season are lucky to have him.
We're glad to hear Emily's remarks were so positive given that Arie clearly has a place in his heart for her, even though they've both long gone their separate ways. He admitted to Entertainment Tonight that his time on her season led him to this point, and he hasn't felt the "same feeling" since he competed for her affections back in 2012. Arie said,
I haven't felt that same feeling that I had when I was on The Bachelorette. It really drove me to do this. [The show] gave me the time to really put myself in front of somebody and shut everything [out] and not worry about work and all the other pressures of life.
Arie is already revealing that he "fell in love" throughout the course of the show. "I think my game plan was not to lead with chemistry. I think in the past I've done that before and I think as a man it's easy to do that. Also for me, I just really tried to envision how that person would fit into my regular life and if I could fit into their life," he told Us Weekly of his approach. Hopefully he's found the happily ever after he's looking for. Emily certainly appears to be living hers.