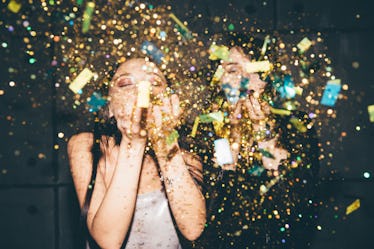 Here's What Your New Year's Day Will Be Like, According To Your Zodiac Sign
Wouldn't it be awesome if U2's "New Year's Day" was playing in the background of this article? Anyway, I know why you're here, which is why I'm going to reveal what your New Year's Day 2019 will be like, according to your zodiac sign. TBH, I'm still not over the fact that we're in December, which means we're just weeks away from ringing in the new year. WTF is time? Are we in the Matrix? That's right, stargazing fam. The year 2019 is upon us, and we've officially survived, what I personally consider to be one of the most challenging years yet.
Obvi, not everyone feels the same way I do, but there's no denying that 2018 will be a year to remember. Trust me, I know I sound like a broken record here, but I can't pretend like 2018 was a walk in the park. It wasn't. Not even close. As it is, I know for a fact that there are things that happened this year, that I didn't even have time to process. However, we're all in the midst of far-reaching changes, both personally and collectively, so there's no way any of this could ever seem smooth. OK, I'm done with the 2018 sob story.
Here's what the first day of 2019 will be like, according to your zodiac sign:
Aries: You're Feeling Needier Than Usual
You could be feeling rather introspective during this time, but not for long. If you're coupled, you and your partner will likely be inseparable, or perhaps in the process of due diligence.
Taurus: You're Willing To Compromise
You know what's best for you and your SO, Taurus. Don't put your guard up, and try not to be so stubborn. The people in your life need your strength.
Gemini: You're Running Errands
There's nothing you enjoy more than a little multitasking, right Gemini? Besides, it's the first day of 2019, and your new state of mind is at 100 mph, of course.
Cancer: You're Having So Much Fun
You're on another level, Cancer. This is a mood. You're feeling as sassy as ever, so make sure you link up with someone can handle you at your Abby Lee Miller.
Leo: You're Feeling Nostalgic
New Year's Day isn't for everyone, and well, looks like you're feeling a little nostalgic. Not to worry, Leo love. Make it a chill day at home. Fluffy pillows and home videos are welcome.
Virgo: You've Got Lots On Your Mind
You're on a mission, Virgo. In fact, you have so much on your mind, you might prefer staying quiet. However, just know that won't last for long, considering the amount of people who will be blowing up your phone.
Libra: You're In Your Happy Place
Not sure if you're going on vacation or what, but rest assured, you will be feeling cozy AF, and lord knows how much you love getting spoiled. Enjoy your day, Libra.
Scorpio: You're In Your Feels
Don't panic, Scorpio. Feelings aren't always a bad thing. In fact, I think you'll be in the mood to reflect on all that you've gained, and endured this past year. Time to start again, right?
Sagittarius: You're Enjoying The Peace And Quiet
Shocker, right? You're not one to revel in silence, but then again, there's nothing you love more than having the liberty to do as you please. Enjoy your solitude, Sag.
Capricorn: You're Making Connections
Looks like you're back to business, huh? Not sure what your plans are, but rest assured, you will be networking and making moves, Capricorn. Sound familiar? It's 2019 and you're back on the grind.
Aquarius: You're Setting Goals For Yourself
Overtime much? Whether you're slaying your professional life or making a list of goals for 2019, you're still making big moves, Aquarius. Go get that bread.
Pisces: You're Exploring New Territory
You're over the regular routine. You're craving new experiences, and questioning the universe. Who knows, maybe you decide to change residences, and move somewhere faraway. The world is your oyster, Pisces.