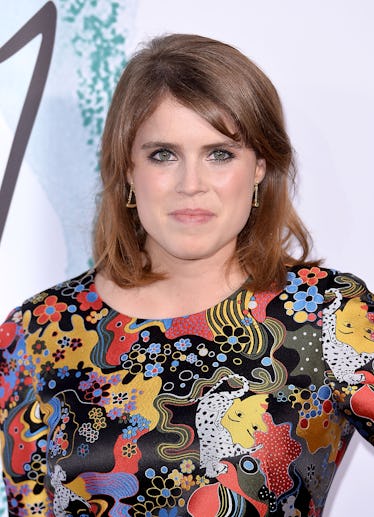 There's Some Mystery Surrounding What Princess Eugenie's Future Children's Titles Will Be
Jeff Spicer/Getty Images Entertainment/Getty Images
By now you know that Princess Eugenie and Jack Brooksbank are set to marry on Oct. 12. And while the whole royal family is gearing up for yet another massive wedding, people everywhere are looking toward Princess Eugenie's future. More specifically, they're asking themselves some complicated questions about Princess Eugenie's future children and whether they'll get royal titles. So, what will Princess Eugenie's kids' official royal titles be? Honestly, it's a pretty complex matter.
In a new report from Harper's Bazaar, royal expert Marlene Koenig explained how royal titles are actually passed down from generation to generation.
"In 1917, King George V issued a Letters Patent that limited who was royal and who was not, limiting the number of generations of His/Her Royal Highness and the title Prince/ess," she told the publication. "Children of the sovereign and grandchildren of the sovereign in the male line are HRH and Prince or Princess of the United Kingdom of Great Britain and Northern Ireland."
So, what does that mean for Princess Eugenie and her future kids with Brooksbank? Well, according to Koenig, it means they might not be getting royal titles after all.
"A princess cannot pass her rank to her children unless the Sovereign issues a Letters Patent, as George VI did in 1948 a few weeks before Elizabeth gave birth to Charles," Koenig explained. "If he had not done this, Charles would have been styled as the Earl of Merioneth (his father, the Duke of Edinburgh's second peerage) and Anne would have been the Lady Anne Mountbatten. The kids would have gotten the royal upgrade the moment mom became queen in 1952."
To coalesce all this info and explain it terms that make sense to all you commoners out there, here's a breakdown: as a princess, Princess Eugenie can't pass her rank down to her children and her husband-to-be will not be given a royal title, so their children won't have titles either. But this is all contingent upon whether the Sovereign AKA the Queen sees fit to issue a Letters Patent that states the children will be given titles.
So, to boil it down even further: it's basically up to Queen Elizabeth. Neither Eugenie nor Brooksbank really has any control over the situation, unless they choose to reject an offer from the Queen to give their kids titles. I have doubts that their kids will be given titles because Princess Eugenie's dad, Prince Andrew, Duke of York, already decided that Brooksbank would remain a commoner, more or less.
As for Princess Eugenie herself, the future of her title is also a bit complicated. According to a July 21 report from The Daily Mail, Princess Eugenie will likely be called HRH Princess Eugenie, Mrs. Jack Brooksbank after the wedding. Despite the small change, an insider source for The Daily Mail assures that Princess Eugenie isn't really concerned with titles.
"Eugenie couldn't care less about titles and is perfectly happy to be Mrs. Brooksbank," the source told The Daily Mail.
I imagine that applies to her future children as well. All in all, though, it seems like this whole royal title business is complicated stuff. But as long as Princess Eugenie's happy with how things are going down, I see no reason to be concerned with titles either.