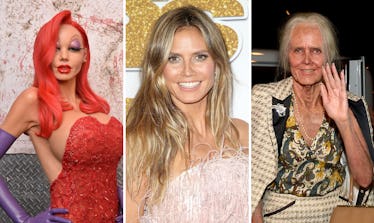 Heidi Klum Teased Her Annual Halloween Costume That Already Looks Like Her Most Epic Yet
Mike Coppola/Getty Images | Frederick M. Brown/Getty Images Entertainment | Mike Coppola/Getty Images
No one loves Halloween more than Heidi Klum. I remember learning in my early teens the famous supermodel didn't mind dressing up like something horrendous and scary when everyone else was going out as a "sexy animal." Truthfully, it's one of the more formative lessons in my life. Confidence and doing what you want is sexy! Hooray! In the past, she's stepped out as a Hitchcock inspired crow, an old veiny woman, Michael Jackson's Thriller werewolf, and a multi-headed goddess, just to name a few costumes. Fans are obviously wondering — What will Heidi Klum be for Halloween 2018? Well, she just gave us a sneak peek and it looks creepy AF. I love it.
Halloween is still over a month away but it takes time and preparation to pull off a Heidi Klum worthy costume, Y'all. In the wee hours of Sept. 26, she shared a video on Instagram of the beginning stages of a prosthetic mask being built. While it's not totally clear what the final creature will be, fans can see it has something growing out of the side of its neck plus a lower face portion with giant holes in the cheeks. My immediate guesses are it's going to end up being some sort of lizard or dinosaur, but then again, I really don't know.
Tell me what I'm looking at here, guys.
Klum captioned the video: "Getting ready for #heidiklumhalloween2018 @prorenfx 👻🎃😱🕷"
According to Entertainment Tonight, the company Prosthetic Renaissance Inc. has worked with Klum in the past, having previously created her iconic Jessica Rabbit costume from 2015. You guys know the one. Let me jog your memory.
Um, hello? Can you please get real with those eyelids?!
Fortunately for Heidi Halloween fans (or HHFs, as I like to call them) Klum usually documents her costume application process.
Here's a closer look at her Jessica Rabbit prosthetics.
And here's a time-lapse video of her transforming into a psychedelic butterfly in 2014.
Last year for her 2017 Halloween party, Klum went all out with a Thriller inspired werewolf costume that she says took her seven hours to put on. She told Entertainment Tonight she did her best to learn the iconic dance, too.
While I couldn't find footage of her performing any dance moves, I did stumble upon this picture of her getting some serious height on the party's red carpet.
It looks a little sweaty in there, right? Not that Klum cares. She's, like, actually a professional.
"In our house, it's Halloween all year round," she once told People magazine. "It's not as scary but (my kids) love dressing up. Look at their mom. She's always dressing up. It runs in the family."
In the past, other fan-favorite celebrities like Kim Kardashian, Chrissy Teigen, Gigi Hadid, Jennifer Lopez, and Serena Williams have all attended the event and dressed up in equally stunning and spooky costumes. So far, fans have no other details regarding the 2018 Heidi Halloween party like it's location or who might be on the guest list, but it's guaranteed to be an incredible time.
If Heidi shows up as a lizard, I want a prize.