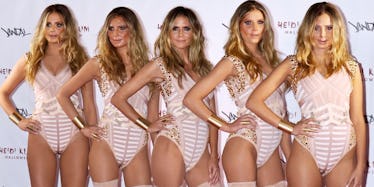 Heidi Klum Cloned Herself And Made Everyone's Halloween Dreams Come True
REX/Shutterstock
And the award for the vainest Halloween costume of all time goes to: model Heidi Klum!
You've got to have some serious self-confidence to go as yourself for Halloween as it's cheap, arrogant and kinda awkward.
But the 43-year-old "Project Runway" host invented next-level sass when she hit up a party in New York City dressed as herself six times last night.
You're looking at a sextuple -- five Heidi Klum clones. Only she could get away with it.
The women all wore prosthetics to look like the German-born star. Some looked identical, although others resembled characters we'd only usually see in "American Horror Story."
Heidi's big reveal was just as epic. Heidi and her clones lined up in an oversized crate with a "made in Germany" stamp on the front.
Before Heidi got to the party, she posted a picture of all their behinds with the caption,
Are you seeing double, triple, quadruple, quintuple, sextuple?! #Ready #HeidiHalloween
It's no secret she's been working on her costume for some time. Her social media feeds have been littered with hints about this year's look.
She always pulls out all the stops and this year was no exception.
In the time before the bash, Heidi posted a series of short Instagram videos documenting her preparation.
There were boots (SO MANY BOOTS).
Multiple hair stylists.
An unholy amount of mess.
Scary looking eyelashes.
More digits than your alarm clock.
Enough hair to keep New York warm all winter.
And behinds so pert we want to start incorporating more squats into our gym workout immediately.
The finished product was worthy of some kind of award. For many men, it was a Halloween dream come true.
Her boyfriend, Vito Schnabel, must have been in his element. Let's hope the right Heidi went home with him.