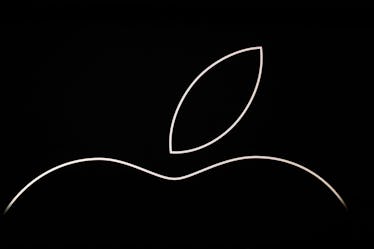 Here's What To Expect From Apple's Second Major Announcement In 2018
Justin Sullivan/Getty Images News/Getty Images
This might come as kind of a shock to you, but for the first time ever, Christmas will actually be coming before Halloween this year. Yep, you heard that correctly, and it's because on Tuesday, Oct. 30, Apple will be hosting a major press event in Brooklyn, New York, where it's widely believed they'll be revealing a bunch of spankin' new devices. So, you're probably wondering what will be announced at Apple's October 2018 event, and the truth is, I'm not entirely sure. However, there's a pretty good chance that new iPad and Mac computer models will be unveiled, per reports from CNBC — at long last — and I'm literally sitting on the edge of my seat. Apple declined to comment on specific announcements planned for the event.
On Thursday, Oct. 18, Apple announced its upcoming press event, which will be hosted at the Brooklyn Academy of Music in Brooklyn, New York on Oct. 30. At this highly-anticipated press event, according to CNBC, the computer company is reportedly planning to reveal each of its new iPad and Mac devices, which will ideally debut just in time for the holidays (if you need help planning out your Christmas list). I think it goes without saying these reported announcements of new will greatly inform my Christmas list this year, even without much information on each device as of yet. Regardless, I'm willing to take the risk.
The reported new iPad Pro sounds like a dream come true. According to The Verge, it's apparently expected to be extra slim, and also have the Face ID feature, like many of the newer iPhone models. Supposedly, it'll also switch its cable from lightening to USB-C, debuting 11-inch and 12.9-inch sizes.
Reports are also predicting a new MacBook Air replacement, which will be slimmer and cheaper than ever before, according to The Verge. Also, it's reported to have hi-res Retina display, so get your Netflix movie marathons ready. A new Mac Mini is also supposedly in the works for all you desktop users, along with software upgrades like iOS 12.1 as well as a watchOS update for Apple Watches. Sounds pretty sweet, doesn't it?
If you aren't looking for a new device, though, Apple is still coming in clutch a new (and super tasty) update: a new and improved bagel emoji, which is complete with a proper amount of schmear. Earlier this year, Apple unveiled a long-awaited bagel emoji in a beta release of iOS 12.1, and it was extremely disappointing. The original Bagel Emoji looked small, sad, and bone dry. The new one, however, was recently released in the fourth beta version of 12.1, and it looks so much better. Not only is it thicker and brighter, but it has a thick cream cheese spread in the middle, so as a New Yorker, I'm pretty proud right now... and really hungry, TBH.
I don't know about you, but I'm always psyched to hear what Apple has in store. With new iPad and Mac models reportedly in the works, it sounds like this unveiling will definitely be one for the books. Not to mention, it'll help fill out my Christmas list. BRB, I have some major planning (and also a lot of saving up) to do.