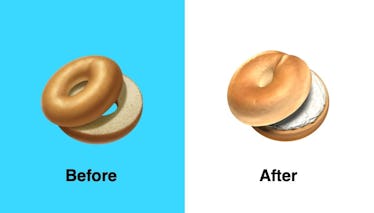 So Many People Hated Apple's Bagel Emoji That They Changed The Whole Thing
When Apple unveiled its new bagel emoji earlier this year, the internet wasn't having it. Almost instantly, people took to Twitter and other social media outlets to voice their outrage over the less than stellar bagel emoji. As a former New Yorker, I have to agree with the critics. The first rendition of Apple's bagel emoji was seriously lacking. So, after yielding fierce criticism about its first round of the digital expression, Apple's bagel emoji got a much-needed makeover and all is right in the world.
Apple's bagel emoji caused quite the uproar online after people started to point out that it didn't really resemble a true New York bagel. Suffice to say, people had some real feelings about Apple's bagel emoji. Just take a look at it the first version of the bagel emoji. It's pretty bare bones. It looks like a sorry excuse for a bagel, IMO. I'm not alone in my feelings, either. Grubstreet called Apple's bagel emoji a "monstrosity."
Well-known New Yorker Pat Kiernan, the host of "Morning On 1" on NY1, fired off a tweet that said, "You call this factory-produced bagel an emoji that stands for all bagels??? New Yorkers demand more."
He's not wrong. Apple's emoji bagel was lacking the oomph that traditional NYC bagels have. Think about the bagel that you might get at the deli on your block or from the bodega on your way to work. Now think about the scrawny bagel emoji. It pales in comparison to the real thing.
It seems Apple took the comments to heart and has since reworked the coveted bagel emoji. After seeing the second rendition, I'm happy to report that the tech company has done it some serious justice. Now, the bagel emoji appears to have a thicker consistency. It looks like a cloud of bread instead of that deflated looking nonsense. Oh, and now it's outfitted (appropriately so) with a healthy slab of cream cheese. Because everyone knows that it's not really a bagel unless there's a proper serving of cream cheese in between the two toasted bagel halves.
The bagel emoji was recently launched earlier this year. It was part of Unicode's Emoji 11.0 update, which added 157 new emojis — including the bagel — to keyboards around the world. Each company like Apple, Google, and others, give the new emojis their own touch. Apparently Apple's take on the bagel emoji wasn't what the rest of iPhone users had in mind.
Jeremy Burger, CEO of Emojipedia, was the first to report that Apple developed a fresh new bagel icon in response to the uproar the original one created. So, if you're an Apple user, it's time to make sure you have the right bagel icon loaded to your emoji keyboard. On Monday, Oct. 15, Apple released a new software update (beta 4 of iOS 12.1) to fix the problem, according to Emojipedia. If you're still seeming the same old and gaunt bagel emoji, head on over to your settings folder and install the latest software update. This should quickly solve all of your problems.
Lesson learned. When bagel lovers come together for the greater good of the beloved breakfast item, change will happen.