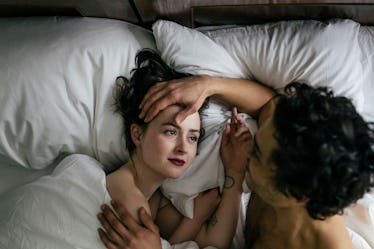 14 Women Reveal The Details That Randomly Turn Them On During Sex & They're Hot
Any normal day would find me and my girlfriends talking about our sex lives in some capacity. The conversation usually goes along the lines of what their partner did, what they didn't do, and if they liked it. But today, my internet friends, is not a normal day. For the purposes of revealing deeper truths about what turns women on, I got real with my ladies. Interestingly, after sharing their quirks and kinks, almost everyone mused if their random turn-ons made them a total weirdos.
Here's the thing. We all have our preferences about everything in life, and none of them are wrong. You're not a flawed human being if you don't like coffee, gag at the thought of a really stinky blue cheese, or can't get down with oysters. You and I might not be very culinarily compatible, but that doesn't make you a bad person and I would still love to be your friend. What you like and what you don't like makes you specifically and wonderfully you. So let's get to the good good and buckle up - because the gals delivered.