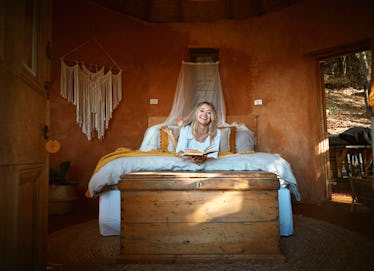 6 Glamping Necessities You Shouldn't Leave Behind, Because This Trip Is All About The Instas
Have you ever been glamping before? If not, then I'm not going to lie: You're totally missing out. Glamping is a glamorous form of camping for those who want to experience the great outdoors without sacrificing all of life's greatest comforts, and, well, glam! Unlike camping, glamping isn't necessarily about sticking to the basics. Instead of sleeping in a sleeping bag, you'll be relaxing in a cozy, plush bed. Instead of calling a tent your accommodations, you'll likely be resting in an IG-worthy treehouse or teepee. If you want to get out into the great outdoors without sacrificing comfort, then glamping is the right move for you. Here's what to pack for glamping, because let's be real: It's really all about the Instas.
Chic bohemian decor and glam probably don't come to mind when you think of camping. You likely envision tents, sleeping bags, campfires, s'mores, and a lack of air conditioning. Glamping provides the best of both worlds when it comes to experiencing wilderness and doing it in style. After a long day of exploring outside, you'll have the convenience of returning to spacious room with a comfortable bed and possibly even air conditioning. Camping isn't for everyone, but glamping is a lot more appealing for those who are new to the outdoor lifestyle. It's also super cute for those Instagram photos! Happy glamping.