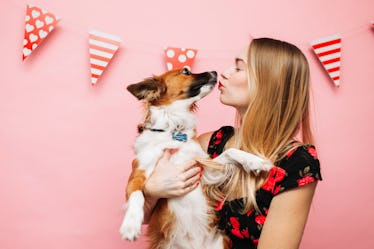 Here's What To Do On Valentine's Day If You're Flying Solo, Based On Your Zodiac Sign
Valentine's Day can be a huge bummer, whether you're in a relationship or not. If you've got a boo, there is a ton of pressure to celebrate it like your relationship depends on it. If you're single, well, I mean, do you even exist on Valentine's Day? Or do you go up in a puff of lonely smoke for 24 hours? Obviously not. Just because you currently aren't cuffed up doesn't mean you need to sit V-Day out. In fact, it may even be more fun if you're unattached. So what to do on Valentine's Day if you're single? Believe it or not, there are many ways to ring in the holiday that don't require a date, despite what Big Chocolate and Big Holiday Card want you to believe. It's all a great consumerist holiday conspiracy, folks — don't believe the hype!
Conspiracy or not, it can still be a great excuse to celebrate and have some fun. Just do so in a way that makes the holiday a great experience that you will enjoy. You could hit the spa, catch a movie, connect with your gal pals, or even adventure out into the great yonder. The choice is yours. But which of these options is right for you? Like with so many other questions, one great place to look for inspo is the stars. Here's what single gals should do this Valentine's Day, according to their astrological signs.
Aries (March 21 - April 19): Travel
For adventurous Aries gals, any time is the right time for a new mind-expanding experience. Instead of loafing around your apartment, book yourself a mini-adventure.
Taurus (April 20 - May 20): Volunteer
Tauruses have a hearts of gold and benefit from giving back on a near spiritual level, so ring in V-Day doing what you love most: Volunteering. Chose a cause that is close to your heart and put a little more love into the world on Valentine's Day.
Gemini (May 21 - June 20): Host A Dinner Party For Other Singles
Nobody does dinner parties better than a Gemini, and Valentine's Day is the perfect excuse to break out those skills and pour some rosé. Gather up all your singles for dinner and who knows? Maybe some sparks will fly. Either way, it will be a blast.
Cancer (June 21 - July 22): Celebrate Galentine's Day Instead
Loving Cancers have a deep appreciation for all their friends and families. So this year, celebrate Valentine's Day with the people who truly have your heart: your gal pals.
Leo (July 23 - August 22): Girls' Night Out
You can't keep a Leo caged, which is why the perfect single V-Day night is a classic girls' night out. This year, Valentine's Day falls on a Wednesday which might put a bit of a damper on any club night plans (... or does it?). But you can still hit the town and have dinner and drinks with your girl squad.
Virgo (August 23 - September 22): Girls' Night In
Just because you aren't a club kid, Virgo, doesn't meant you have to hide under the covers alone on Valentine's Day. Instead, gather you crew for a girls' night in. Pick out some movies you all love, pop some popcorn, and crack open some wine.
Libra (September 23 - October 22): Speed-Date
Romantic Libras cant resist the call of the heart. Just because you're single on Feb. 14 doesn't mean you have to stay that way on Feb. 15. Find yourself a local speed-dating event and see what happens.
Scorpio (October 23 - November 21): Hook Up
A passionate Scorpio's desire will not be denied. If you have a hookup buddy on retainer, now is the time to take advantage of that connection. If not, well maybe just enjoy some self-love, if you know what I'm sayin'.
Sagittarius (November 22 - December 21): Karaoke
Optimistic, fun-loving Sag gals are always up for a good time — and aren't afraid to be a little goofy. So who cares if it's a Wednesday? Grab your single friend crew and go belt out some cheesy love songs at karaoke.
Capricorn (December 22 - January 19): Hit The Gym
Caps are notoriously ambitious and disciplined, so why not spend the holiday channeling that into a great workout at the gym? Who needs romance when you've got endorphins.
Aquarius (January 20 - February 18): Netflix And (Solo) Chill
Humanitarian Aquarius is amazing about giving back; what you struggle with, though, is taking care of you. Take the day off from saving the world and just relax with a night in, catching up with Netflix, or reading that book you've been meaning to get to.
Pisces (February 19 - March 20): Spa Day
Compassionate Pisces gals spend all year thinking about others, giving back, and sending love outward. Which is why V-Day is the perfect excuse to turn that energy inward. Today, embrace self love and care with a day getting pampered at the spa.
Well, single gals, did you just turn into a Valentine's Day fan? See, V-Day isn't just for couples. In fact, it may actually be better if you're free and breezy.
Check out the entire Gen Why series and other videos on Facebook and the Bustle app across Apple TV, Roku, and Amazon Fire TV.
Check out the "Best of Elite Daily" stream in the Bustle App for more stories just like this!