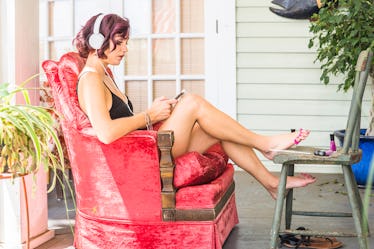 How To Plan A Spring Break Staycation & Actually Enjoy Your Downtime
Spring break is still a few months away, but you probably know by now if you're actually traveling somewhere or if you plan to hunker down for a staycation. It might feel disappointing if you wanted to go somewhere but then decided not to, especially if some of your friends are getting seriously pumped about all of the snorkeling they're going to fit into five days in the sun. Figuring out what to do on a spring break staycation can seem daunting, but the truth is that your opportunities are entirely endless.
Because you're staying home (and not spending a bunch of money on airfare and accommodations), you have all of the wealth of your worldly goods combined with extra free time that you don't usually have. That means guilt-free Netflix sessions, quality time getting to know your own neighborhood, and ample space to try out a new skill or hobby, as well.
Staycations might just be more relaxing than vacations, since you don't have to worry about cancelled flights or unexpected costs. So sit back, relax, and make the most of your time at home. Here are seven ways to crush the staycation game for your 2018 spring break.