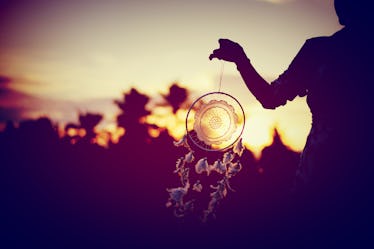 Seeing These Red Flags In Your Dreams Might Mean Stress Is Taking Over Your Life
Shutterstock
Bad dreams are the worst. You go to bed hoping to let go of whatever difficulties were happening in your daily life, and then you have a nightmare or anxiety dream that leaves you feeling even more stressed than when you first laid down for the night. But, make no mistake, dreams can be a great way to tap into your emotional well-being, and they might just be trying to tell you something about your waking life. A few of the most common stress dreams may just indicate there's something going on in your life that you need to pay a little more attention to.
Of course, it's always important to point out that dreams are absolutely up for personal interpretation, and are by no means a one-size-fits-all sort of thing. For the most part, the feelings that a particular dream may spark might be the most important thing to pay attention to, as well as what the particular dream symbols mean in your waking life. For example, while a dream about snakes might freak me out big time, to you, you might see them in a dream and think they're just cool or interesting, rather than frightening. See what I mean?
But hey, if we all started to feel just a little more comfortable in the realm of our own subconscious, it might do some really positive things for us while we're awake. So, here are some interpretations of common stress dreams you might be having that might offer you a starting point to tap into what's really going on with you.