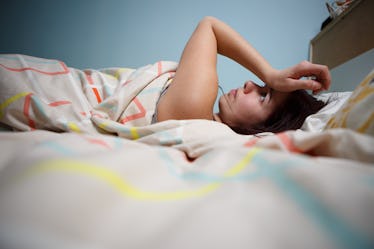 6 Common Stress Dreams That May Be A Red Flag For Your Mental Health
Dreams are a funny thing. Some mornings, you'll wake up in a fog, unable to remember anything your imagination directed throughout the night, while others, you wake up in a cold sweat trying to understand what do stress dreams mean, and what real-life problems are they stemming from? The horrifying visions dancing in our heads are the ones that stand out the most to us, and this is simply just another example of how life isn't fair, folks. The good dreams fade minutes after we wake, and the bad dreams are the ones that linger, ultimately worsening our anxiety. Awesome, right?
Unless you're the type or person to obsess over bad omens or google details from your dreams to dig deeper into their symbolic meanings, most of us brush off stress dreams like dirt on our shoulders. It's true, dreams aren't "real," but they are heavily based on true emotions. Our minds use dreams as a coping mechanism, a reality check, or as a method of sorting out our internal chaos. Why do we fear certain things, and how does it all affect our mental health?
According to Jeffrey Rubin, Ph.D, our dreams are typically based on one of two things: what terrifies us and what enchants us. He tells Elite Daily that dreaming is "the mind's way of coping with the emotional and physical challenges of living." And even though we are all fighting separate demons, there are a few common stress dreams we all seem to have as a way for our subconscious to deal. Here are a few to look out for, and what they may mean about your waking life.