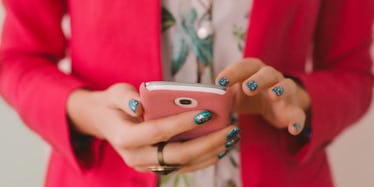 Here's What To Do If You Feel Like You're Bad At Sexting, Because It's Not For Everyone
A lot of people think sexting is part of either the dating process or being in an actual relationship. Many feel the pressure of maintaining this idea that you constantly have to keep someone sexually interested in you, and if you don't, they'll leave. Well, this is a pile of bullsh*t. The truth is there are other ways to keep the spark alive with another person. If you're wondering what to do if you're bad at sexting, don't feel like you need to immediately up your sexting game to keep your partner around. This isn't a thing! And if your partner is making you feel like sexting is a requirement and pre-requisite to being with them, then you might want to reconsider your relationship, because they may not respect your boundaries as much as you deserve.
I know for me, personally, it felt weird to go there for the first time. I had thoughts running through my head wondering if I was doing it correctly. The texts I received in response seemed like assurance enough, but honestly, sexting was a useful thing for my ex and I to do when he was abroad in Italy for a semester, and I in France. So here's what to do if you don't want to sext, aren't good at it, or want to try some other ways to keep things ~spicy~.