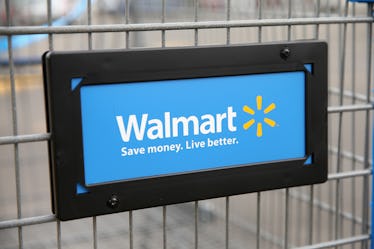 Walmart's Black Friday Hours Will Give You A Head Start On All The Best Deals
Scott Olson/Getty Images News/Getty Images
As per usual, Halloween came as quickly as it went. And while you might be tempted to start decking the halls with bows of holly, Thanksgiving and Black Friday are just around the corner. After totally stuffing yourself with turkey, veggies, and endless amounts of pie, the annual shopping extravaganza usually starts early on Friday morning, for those who like to celebrate. However, several popular Black Friday destinations — like Walmart, for example — open just as you might be sitting down to eat your Thanksgiving feast. So, if you're wondering what time Walmart opens on Black Friday 2018, the deals are starting earlier than you probably thought.
You're most likely aware of the fact that Walmart is a prime Black Friday destination. From their wide variety of discounted kitchen appliances, to low-priced sports equipment, and, of course, its cheap AF electronics, Walmart seriously has it all. If you find yourself wanting to make a pitstop at the retailer, however, keep in mind that the department store's Black Friday deals start early on Thanksgiving, Thursday, Nov. 22 at 6 p.m. local time, according to Walmart's Black Friday ad on the website. While Walmart stores will be open all day on Thanksgiving, your chance to score all the Black Friday deals will be from 6 p.m. on Thanksgiving night all the way through the store's closing on Black Friday, Nov. 23. Elite Daily reached out to Walmart for further information about how long the store will be open from Thanksgiving through Black Friday, but did not hear back at the time of publication.
That's right — unless your family eats Thanksgiving lunch or the Early Bird Special, there's a good chance the deals are starting just as you're sitting down for dinner. If that doesn't apply to you, though, I strongly suggest you to get in on those deals.
If your family takes Thanksgiving dinner as seriously as mine does, on the other hand, skipping out on the big meal might not be in the cards for you. If that is, in fact, the case, Walmart's Black Friday online deals start before the holiday even begins, on Wednesday, Nov. 21 at 10 p.m. ET, according to Walmart.com. I don't know about you, but my mom would eat me alive if I said I was missing dinner, so it looks like I'll be perusing their online deals instead. I'm totally OK with that.
If you do head to Walmart on Thanksgiving, you can get yourself some free cocoa and cookies to energize you for your shopping spree. Per the Walmart ad, you can get "hot cocoa & cookies at 4 p.m." Yum! Sounds like a great start to your Black Friday festivities.
If you're still mapping out your Black Friday shopping schedule, though, make a point to browse Old Navy's Black Friday deals for major clothing discounts. Their annual sale actually starts earlier than most, so you can hit up the shops way before your Thanksgiving guests even arrive. Their sales start Wednesday, Nov. 21 from 9 a.m. to 10 p.m. local time. Then, if you're not too busy Thanksgiving day, they'll be opening again on Thursday, Nov. 22 at 3 p.m. From there, they'll be open until Friday, Nov. 23 at 10 p.m. Their hours will vary by location, though, so make sure to call yours before you go.
If you're all about getting in on those infamous Black Friday deals, you're probably already planning out where you're going. Just keep in mind that Walmart's sales start hella early, right as I'm sitting down for Thanksgiving dinner. If you make your way there in time for the sales, grab a few things for me. TBH, by the time I get there after waking up from my yearly food coma, everything might be gone.