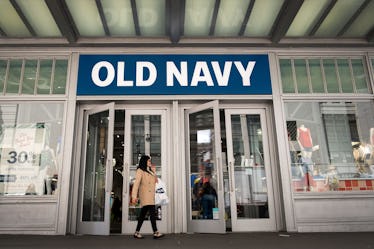 Old Navy Is Letting You Pull An All-Nighter To Take Advantage Of Black Friday Deals
Drew Angerer/Getty Images News/Getty Images
Shopping is stressful — especially on Black Friday. Time flies when you're running around the mall in a frenzy, and it's hard to catch all of your favorite sales before the stores close. Thankfully, Old Navy is making it a little bit easier for customers to take advantage of its deals without racing the clock. Why? Because the store isn't sleeping. In fact, Old Navy's Black Friday 2018 hours will make it possible to shop all night long after you've finished your Thanksgiving dinner. So once you're done eating, do the dishes, make some coffee, and get your wallet ready for some nocturnal deals.
OK, let's face it: I'm sure most of you will save the shopping for Black Friday. Heck, whenever I'm done with Turkey Day dinner, all I want to do is sit on my couch and watch holiday movies (that's just me, though). For those of you who'd rather shop, I'll give you Old Navy's Black Friday hours. According to USA Today, the sale will begin on Wednesday, Nov. 21 from 9 a.m. to 10 p.m. local time. Then, after everyone's spend some *quality* Turkey Day time with their loved ones, Old Navy will open again on Thursday, Nov. 22 at 3 p.m. From that point on, it'll stay open until Friday, Nov. 23 at 10 p.m. Per USA Today, hours will vary by location — so give your local spot a call before heading out for the night.
I don't know about you, but I respect these hours. By staying open all night long, Old Navy is giving its customers the chance to get all of their shopping done early. That way, they'll be able to relax on Black Friday instead of running around their local mall with dozens of bags in their hands. However, I hope shoppers who make the nighttime Old Navy trek on Thanksgiving aren't too tired from their food comas. I know for a fact that I'd need a good amount of coffee to keep me going after a dinner like that.
Then again, I think all of Old Navy's Black Friday sales would be enough to keep me awake. One deal that stands out in particular is the company's One Dolla Holla Cozy socks sale, which offers comfy, printed socks for only a buck. With 32 designs including cute llamas, puppies, and elves, the socks will make great stocking stuffers and gifts for your friends. Since they're only a dollar, you can even splurge and buy a pair or two for yourself. Just keep in mind that you'll have to buy these stocks in an Old Navy store in order to take advantage of the sale.
Worth staying up all night for? I think so.
In addition to the One Dolla Holla sock sale, the company will be offering a whopping 50 percent off all in-store and online purchases during its Black Friday sale. Between cute socks and half-off everything, Old Navy is going to be my first shopping stop this year. Plus, I've got my eye on those sloth socks and can't wait to cozy up with a few pairs this winter.