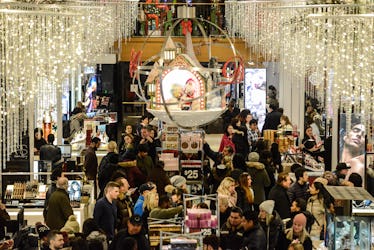 Set Your Alarm Real Early If You Plan On Hitting Macy's For Black Friday
Stephanie Keith/Getty Images News/Getty Images
This year, Macy's is among the handful of retailers who is opening their doors on Thanksgiving Day to customers looking to begin their holiday shopping ASAP without waiting for their turkey feast to settle. However, if you'd rather catch a football game or sleep off your stuffing 'n pie coma before getting into full retail mode, you might be wondering, what time does Macy's open on Black Friday 2018? Make sure to set your alarms the night before, because it's a very early start and trust me, you definitely don't want to sleep through these incredible deals and freebies.
On Friday, Nov. 23, Macy's will be open bright and early at 6 a.m. until 10 p.m. for Black Friday shoppers looking to take full advantage of the best savings of the season, according to USA Today. The shopping frenzy will officially commence on Thanksgiving evening, as the retail chain will open at 5 p.m. "to serve [their] customers who choose to begin their holiday shopping on Thanksgiving Day," per the publication. Turkey Day shopping hours will last until Friday at 2 a.m. With the option of either Thanksgiving night or Black Friday morning shopping on offer this year, customers can choose which times work best for them or literally shop 'till they drop, with over 12 hours of near-continuous retail time, if that happens to be more up their alley.
If you're tempted to sleep in on Friday morning, Macy's 2018 Black Friday deals might make you reconsider because they're some of the very best ones I've seen thus far, TBH. Until 1 p.m. on Nov. 23, the store is offering a full roster of goods for literally $0 that'll make you forget all about pressing the snooze button, because who doesn't like free stuff? Per the Macy's Black Friday ad, you can score a handful of covetable items like a Giorgio Glam fragrance (normally $72), a 1.5-quart Bella Slow Cooker, Ralph Lauren pillows, and Martha Stewart drinking glasses completely gratis.
According to the fine print, the 12 free products are only available "while supplies last" in-store and require a mail-in rebate that's only eligible until 1 p.m., so you'll definitely want to set your alarm before opening and grab a coffee or two on your way to Macy's. With watches, handbags, and even a $29.99 pair of diamond studs on offer (which normally retail at $200), you can beat the hordes of shoppers who slept through their alarms and walk out without spending a dime on some pretty great products.
In addition to the advertised freebies, the full Macy's Black Friday ad has about 40 pages of deeply discounted home and beauty products that you can browse through to plan your shopping moves. While you can shop online all day Thursday through Saturday on Macys.com/BlackFriday, the mail-in rebates are only available in-store, and it looks like it'll be well worth your while to set those alarms, power through that Thanksgiving food coma, and make your way to your nearest Macy's store before opening for the best doorbusters of the year. Your wallet will thank you.