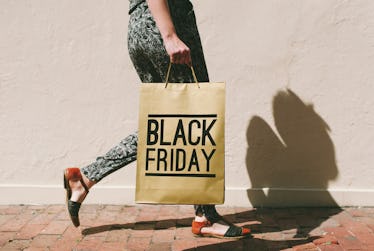 Black Friday 2017 Starts Insanely Early, So You Probably Won't Be Sleeping At All
Black Friday is a holiday all shopaholics celebrate annually, but there's a lot of confusion about when the sacred shopping day officially starts. Does is start the second you finish your Thanksgiving dinner on Thursday night? Or does it start when you wake up bright and early the next morning? To be honest, I've never known. I've always been too scared (and full of food) to participate in Black Friday, and usually opt for sitting on my couch watching Christmas movies instead. However, if you're someone with big shopping plans wondering what time Black Friday 2017 starts, we can figure it out together.
To be honest, there are a few ways to answer this question — but first, let's go the literal route. Black Friday 2017 lands on Friday, Nov. 24. Therefore, the holiday officially begins at midnight on the 24th (because, technically, that's when the day begins). I told you this was the literal answer; I'm just stating the obvious.
While we're being frank, I'll remind you that Black Friday always lands on the Friday after Thanksgiving. Black Friday 2017 is no different, and ultimately begins at midnight on the Friday following Turkey Day. Usually, I'm fast asleep by the time this happens, and I admire everyone who's already waiting in line at their favorite department stores.
OK, now that you know what time Black Friday literally begins, we'll talk about a few Black Friday sales that start before the clock strikes midnight.
If you're someone who would rather shop than spend Thanksgiving around the dinner table with family and friends, you have options. Kohl's is opening their doors to Black Friday shoppers on Thanksgiving at 5 p.m., following their online sale that starts on Monday, Nov. 20. Kohl's definitely isn't the only store opening their doors during Thanksgiving hours, though.
More than 40 national retailers will open for Black Friday shoppers a day early, according to BestBlackFriday.com. However, keep in mind their hours vary, and that some stores aren't open late on Thanksgiving. Others, on the other hand, are open past midnight and well into Black Friday.
For example, Best Buy will be open on Thanksgiving from 5 p.m. to 1 a.m. on Black Friday. These hours are actually great if you're planning on having an early Thanksgiving dinner before hitting the shelves later that night. JCPenney, another beloved retailer, will be open at 2 p.m. on Thanksgiving to 10 p.m. on Black Friday. Other stores opening early and pulling all-nighters for the sake of shoppers include Macy's, Five Below, Boscov's, and more.
Based off this information, you can definitely say that Black Friday starts a little earlier than Friday, Nov. 24. I suppose it just depends on where you decide to shop and whether or not you want to start your Black Friday escapades on Thanksgiving.
However, if you plan on celebrating Black Friday through good ol' Amazon, the holiday has already begun. That's right: Black Friday sales started on Amazon Friday, Nov. 17. According to a press release the company posted on their website, the Black Friday sales will last until Friday, Nov. 24 (which is officially Black Friday). Apparently, the company is rolling out different Black Friday sales on different days, so keep your eyes peeled for your favorite products to go down in price.
To be completely honest, Black Friday shopping is probably so much easier to do online — so I'm all for Amazon's tactic. If you agree, you can always extend your Black Friday celebrations to Cyber Monday, which falls on the Monday after Thanksgiving. Cyber Monday will bring loads of online sales, so keep on eye on your computer screen while you're eating leftover turkey sandwiches.
Happy Early Black Friday, ya'll!
Check out the entire Gen Why series and other videos on Facebook and the Bustle app across Apple TV, Roku, and Amazon Fire TV.